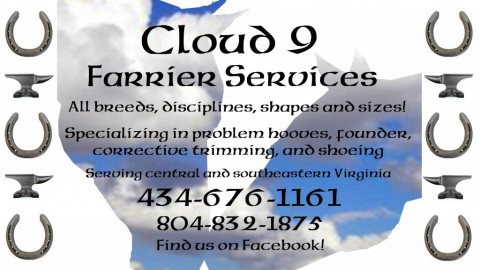 Visit our facebook page for more information and photos!
http://www.facebook.com/pages/Cloud-9-Farrier-Services/15350
Serving Central and Southeastern Virginia.
Over 38 years experience, 3rd generation farrier. All breeds and all disciplines are welcome. Competitive, affordable rates, always! Willing to travel.
Specializes in injured or ill horses, performance horses and problem horses.
No job too big or too small! Cell, call or text, Eight 0 Four, Eight 3 Two, 1 Eight 7 Five.
Home, call, 4 Three 4, Six 7 Six, 11 Six 1.
Please leave a number or email in the body of your message so I can get back to you.
Specialties
All Breeds & Disciplines
All Soundness Needs
Barrel Horses
Basic Shoeing
Casting
Clips
Cold Shoeing
Corrective & Lameness Shoeing
Diagnosing Hoof Problems
Donkeys
Draft Horses
Drafts
Dressage Horses
Eventers
Farrier
Foals & Young Horses Expertise
Founder Treatment
Gaited Horses
General Farrier Work
Gentle
Gentle With The Old Patient With The Young.
Glue On Shoes
Good With Horses
Hoof Reconstruction
Hoof Resection
Hoof Trimming
Horseshoes
Hunters
If Your Horse Has A Hoof Crack
Laminitis Treatment
Miniatures And Donkeys
Mules
Natural Barefoot Trimming
Navicular Expertise
Outstanding Quality
Patient
Performance Horse Barefoot Trimming
Performance Horse Shoeing
Ponies/ Miniatures
Punctual And Honest
Regular Shoes And Trims
Reining & Ranch Horses
Rope Horses
Sheath Cleaning
Therapeutic Shoeing
Trimming
Very Dependable
Western Pleasure