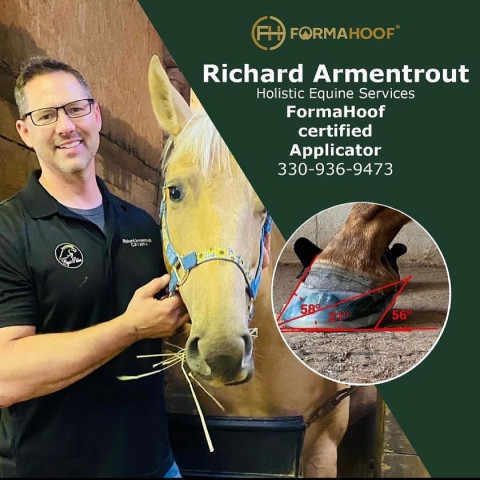 Richard Armentrout , Accredited Professional Farrier , Certified Journeyman Farrier, Certified FormaHoof Applicator, Authorized EquiPulse PEMF Technician , Clinician and Author
Providing the Following Services
- Therapeutic Shoeing
- Radiographic Imaging Services
-Certified FormaHoof Applicator
- Equine Thermal Imaging
Whether you have unexplained lameness , an acute injury or just seeking improved performance in the ring give me a call for a consultation and evaluation. I am happy to work independently or collaborate with your farrier and veterinarian.
*Successful treatment of Laminitis/Founder
*Successful treatment of Navicular Syndrome
*Lameness Consultations ( specializing in unexplained lameness problem solving)
*Mismatched feet , hi/lo syndrome , "clubby" foot solutions for balancing the Whole Horse
*and more...
>Farm call based on $1.75 mile one way from area code 44720*
>Barefoot trims start at $85
**To schedule an appt today and receive a quote for services please email equinepemf@gmail.com
Links to published articles
https://holistichorse.com/health-care/what-is-pemf/
https://professionalfarriers.com/docs/FINAL-WEB-AAPFNewsletter_Sept_October.pdf
Specialties
All Breeds & Disciplines
Available For Speaking Events
Barrel Horses
Basic Shoeing
Bodywork
Clips
Corrective & Lameness Shoeing
Dressage Horses
Equipulse Pemf Therapy
Eventers
Formahoof
Founder Treatment
Glue On Shoes
Hoof Resection
Hunters
If Your Horse Has A Hoof Crack
Laminitis Treatment
LLD(Limb Length Disparity)
Mules
Natural Barefoot Trimming
Navicular Expertise
Outstanding Quality
Performance Horse Barefoot Trimming
Performance Horse Shoeing
Ponies/ Miniatures
Sinker Cases
Therapeutic Shoeing
Thermal Imaging
Trimming
X-Rays