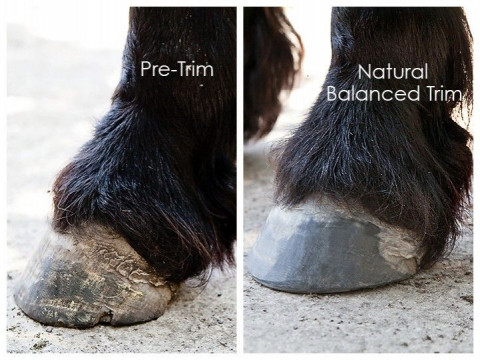 Are you seeking more holistic care for your horse's health? Holistic Equine Hoof Care specializes in the care and holistic preventative treatment of your horse's hooves.
Merriam Webster defines "Farrier" as "a person who shoes horses". I am a farrier, as I went to school to become a farrier, trained, and worked many years in the field. After many years routinely doing what I was trained. I became more and more aware of the natural design of the hoof and the special needs each individual horse needed. Despite my specialized training in hoof anatomy and hoof care, after trial and error and several years of research and examination of evidence based studies, I have set aside my "shoeing" and commit my services to natural hoof care. Unlike conventional farriers, I do not shoe horses with steel shoes, but recommend barefoot and boots for riding. Horses were not designed to have steel shoes nailed into their hoof. Unlike conventional farriers, I will care for your horse as an individual and you will feel at ease knowing I will treat your pet kindly. Located in Davie, FL, and accepting new clients in the Tri-county area of South Florida.
www.holisticequinehoofcare.com
Graduate of Oklahoma State Horseshoeing School 1998.
Services offered: Natural balanced trim, lame horse rehabilitation, easycare boots for all situations, emergency service.
Past clients include Arabian Nights and Disney.
Specialties
All Breeds & Disciplines
Boot Fitting
Corrective & Lameness Shoeing
Founder Treatment
Glue On Shoes
Hoof Resection
Laminitis Treatment
Natural Barefoot Trimming
Navicular Expertise
Performance Horse Barefoot Trimming
Therapeutic Shoeing