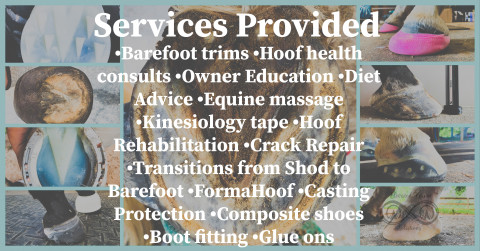 NOT ACCEPTING SHOD CLIENTS
New list of services including FormaHoof, Equine Myo-manipulative therapy and Kinesiology tape.
Call me directly on the number listed
Tired of standing there all day waiting for a Farrier who never shows up? Messages never getting returned? Perhaps you're tired of the tried and true "Cowboy, Giddy up" beat them until they do what you want approach. Or maybe, you're horse is consistently lame after trimming?
If you're still reading this obviously I've caught your attention and there's a reason you're intrigued. I graduated top of my class from Lookout Mountain School of Horseshoeing in Gadsden which lead me to a working intern/apprenticeship with the lead Farrier at Auburn University. I stayed there for 4 years working and learning while strengthing my independent buisness. It was there that I gained knowledge that put me ahead of many other local Farriers especially in dealing with Laminitis and Founder cases, resections, White Line Disease, Canker, and many other hoof ailments. Continuing education is a must.
I am looking forward to servicing Central Alabama around the New Site area and beyond. I have a long list of references if you would like. Very patient with troubled horses, can also accommodate the elderly stiff horse by changing the position I hold them, and I try to address lameness on a whole horse approach without tunnel vision. I believe that there are better ways to get the job done without force.
I also strive to provide excellent client service by providing future scheduling the same day as your current visit to prevent missed appointments, appointment reminders, courtesy calls to inform you that I am on the way or running a few minutes late. This is my career and not a side gig, I take it very seriously and pass that compassion along to my clients.
Trim service only. No longer accepting shod clients. I do practice more of a barefoot trim rather than a cowboy trim, after years of experience I've found what I feel holds the foot together better and go with it. I will not trim to the point of lameness for a drastic time period like other controversial hoof butchers. Every horse is different, I won't force one into an unconventional box. There is a different solution for every horse.
Natural trim, Hoof Armor, FormaHoof, Casts, I am can do a bit of it all. If its not listed, ask and we will go from there.
Thanks so much! Looking forward to helping with your hoof care needs. Keeping horses happy, one foot at a time.
*** PLEASE CONTACT ME DIRECTLY. Messages delivered through newhorse are NOT guaranteed to reach me! Text, call, email, or visit my website. Thanks! ***
Look me up on Facebook: Elevated Equine Solutions
Specialties
10 Years Experience
All Breeds & Disciplines
All Soundness Needs
Arthritic Horses
Boot Fitting
Chambers County
Clay County
Coosa County
Dependable
Donkeys
Draft Horses
Elmore County
Equine Massage
Foals & Young Horses Expertise
Formahoof
Founder
Founder Treatment
General Farrier Work
Gentle
Gentle With The Old Patient With The Young.
Glue On Shoes
Good With Horses
Hoof Cracks
Hoof Resection
Hoof Trimming
If Your Horse Has A Hoof Crack
Kinesiology Tape
Laminitis Treatment
Lee County
Miniatures And Donkeys
Mules
Natural Barefoot Trimming
Navicular Expertise
Outstanding Quality
Patient
Performance Horse Barefoot Trimming
Ponies/ Miniatures
Punctual And Honest
Talladega County
Tallapoosa County
Trimming
Very Dependable
Will Not Leave You Hanging On Appointment Day