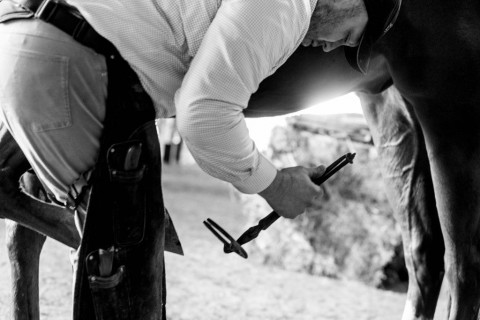 ZIMMER'S FARRIER SERVICES
Professional hoof care and horse shoeing. Jeremiah is a American Farriers Association Certified Farrier that has been shoeing horses for over 10 years from coast to coast and a lifetime as a horseman. As a fellow horseman he understands the needs of your horse and the concerns of an owner.
Jeremiah offers quality work for all breeds and disciplines, specializing in founder and chronic laminitis issues. Every horse is an individual and should be treated as such. "My goal is for your horse to perform at its highest level and you to be a happy owner."
Please contact me directly because I cannot view your contact information.
Specialties
Acrylic Hoof Repair
AFA Certified Farrier
All Breeds & Disciplines
All Soundness Needs
And Kind Handling Techniques
Barrel Horses
Basic Shoeing
Certified Farrier
Clips
Cold Shoeing
Cold Shoes For Jumpers
Corrective
Corrective & Lameness Shoeing
Custom Shoeing
Custom Shoes
Diagnosing Hoof Problems
Dressage Horses
Drill Tec
Equi-cast Hoof Casting Material
Eventers
Farrier
Foals & Young Horses Expertise
Founder
Founder Treatment
Full Shoes
Gaited Horses
General Farrier Work
Gentle
Gentle With The Old Patient With The Young.
Glue On Shoes
Good With Horses
Great With Horses. Gentle And Honest
Hand Turned Hunter/jumper/dressage Aluminum Shoes
Handmade Shoes
Hoof Cracks
Hoof Pads
Hoof Reconstruction
Hoof Resection
Hoof Trimming
Horseman
Horseshoes
Hot Shoeing
Hunter Jumpers
Hunters
I Have Worked With Horses All My Life
I Show Up On Time Or I Will Make A Call
If Your Horse Has A Hoof Crack
Jumpers
Laminitis Treatment
Natural Barefoot Trimming
Natural Horsemanship
Navicular Expertise
Outstanding Quality
Patient
Performance Horse Shoeing
Please Call To Check My Availability
Pleasure Trail Horses As Well As Competitive Trail & Endurance
Providing Soundness In Horses
Punctual
Punctual And Honest
Quarter Cracks
Regular Shoes And Trims
Reining & Ranch Horses
Reliable
Rope Horses
Shoeing For Performance & Soundness In All Horses.
Specializing In Perfomance
Therapeutic Shoeing
Thrush
Trim To Natural Conformation Of The Horse.
Trimming
Trims
Very Dependable
Western Pleasure