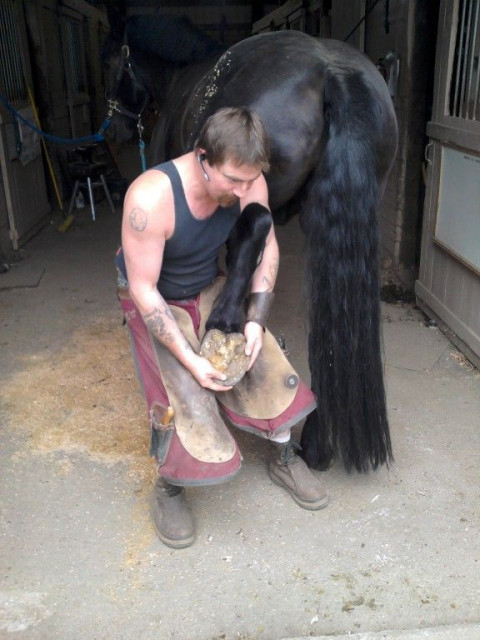 If you'd like an appointment please call or leave me your phone number or email address, New Horse doesn't give me your contact information, you can also visit my facebook page, Sport Horse Shoeing and leave me a message. I'm a 1999 graduate of Mission Farrier School, the first school in the US to teach Natural Balance principles along with traditional techniques. I'm a member in good standing of E.L.P.O. and have been since it's inception. I'm the first farrier in Oregon to achieve the L4 (certified lameness specialist) from E.L.P.O. I'm very proactive in my continuing education. Please call . My current service area is EAST of I5 and south to Silverton, I'm no longer taking new clients on the west side and in Washington, my phone number is listed on the botton of the page.
Specialties
All Soundness Needs
Available For Speaking Events
Barrel Horses
Boot Fitting
Clips
Consultations
Corrective & Lameness Shoeing
Diagnosing Hoof Problems
Donkeys
Dressage Horses
Endurance
Eventers
Farrier
Founder
Founder Treatment
Four-point Trimming & Enhanced Breakover Shoeing
Full Shoes
Gaited Horses
General Farrier Work
Gentle
Gentle With The Old Patient With The Young.
Glue On Shoes
Good With Horses
Hoof Cracks
Hoof Pads
Hoof Reconstruction
Hoof Resection
Hoof Trimming
Horseshoes
Hot Shoeing
Hunter Jumpers
Hunters
I Do Not Work On Drafts
I Show Up On Time Or I Will Make A Call
I'm Not Always Taking On New Clients.
If Your Horse Has A Hoof Crack
Jumpers
Laminitis Treatment
Miniatures And Donkeys
Mules
Natural Balance Hoof Care
Natural Balance Shoeing And Trimming
Natural Barefoot Trimming
Natural Trim
Navicular Expertise
Outstanding Quality
Patient
Performance Horse Barefoot Trimming
Performance Horse Shoeing
Please Call To Check My Availability
Pleasure Trail Horses As Well As Competitive Trail & Endurance
Ponies/ Miniatures
Providing Soundness In Horses
Punctual And Honest
Quarter Cracks
Regular Shoes And Trims
Reining & Ranch Horses
Rope Horses
Shoeing For Performance & Soundness In All Horses.
Therapeutic Shoeing
Trim To Natural Conformation Of The Horse.
Trimming
Very Dependable
Western Pleasure