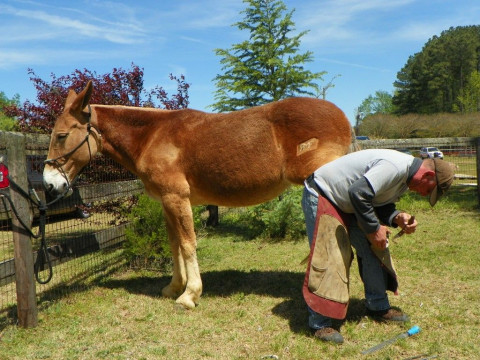 With over 35 years of experience, we are determined to bring you the absolute best in hoof care at Craig's Farrier Service. Whether you have a performance horse, a miniature pony, donkey or mule you want a farrier who will listen to you and work with you. You want a farrier you can trust.
Owner Craig Horvath began an apprenticeship in shoeing horses when he was 17. Following in the footsteps of his Father (another farrier with 35 years of experience) he underwent 6 years of apprenticeship at Calder Racetrack in Miami FL. Craig learned all methods of hot and cold shoeing, corrective shoeing, overall hoof care and preventative maintenance. Upon completion of the apprenticeship, Craig was certified with the State of Florida and the IJHU (International Chapter of Journeyman Horseshoers). He spent considerable time at the Gulfstream and Hialeah racetracks in Florida as well.
Since moving to North Carolina 10 years ago, he has built a reputation of excellence and dependability among his clients. Craig's service area includes a 25 mile radius around Raleigh, NC.
Please visit our website (www.craigsfarrierservice.com) or call (919.995.5651) for more information.
Specialties
All Breeds & Disciplines
All Soundness Needs
Barrel Horses
Basic Shoeing
Cold Shoeing
Cold Shoes For Jumpers
Consultations
Corrective & Lameness Shoeing
Custom Shoeing
Diagnosing Hoof Problems
Donkeys
Endurance
Farrier
Founder
Founder Treatment
Four-point Trimming & Enhanced Breakover Shoeing
Full Shoes
Gaited Horses
General Farrier Work
Gentle
Gentle With The Old Patient With The Young.
Good With Horses
Hoof Cracks
Hoof Pads
Hoof Trimming
Horses
Horseshoes
Hunter Jumpers
Hunters
I Have Worked With Horses All My Life
I Show Up On Time Or I Will Make A Call
If Your Horse Has A Hoof Crack
Jumpers
Laminitis Treatment
Miniatures And Donkeys
Mules
Natural Balance Hoof Care
Natural Balance Shoeing And Trimming
Natural Barefoot Trimming
Natural Trim
Outstanding Quality
Patient
Performance Horse Barefoot Trimming
Performance Horse Shoeing
Please Call To Check My Availability
Pleasure Trail Horses As Well As Competitive Trail & Endurance
Ponies/ Miniatures
Providing Soundness In Horses
Punctual
Punctual And Honest
Regular Shoes And Trims
Shoeing For Performance & Soundness In All Horses.
Therapeutic Shoeing
Trim To Natural Conformation Of The Horse.
Trimming
Very Dependable
Western Pleasure