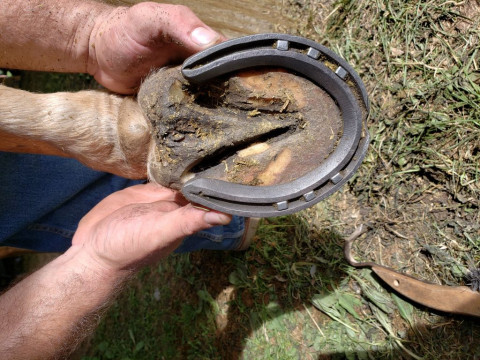 AFA Certified Journeyman Farrier. I provide quality, punctual and routine care for your horses. I have a few select openings in my schedule for the right people and horses.
I started my apprenticeship in 2009, and graduated from horseshoeing school in 2011.
I am actively learning more about my trade daily through continuing education and farrier competition. Training both my skills and my mind to better serve your horses.
I do not always receive emails from this site as some get rerouted through my spam filters, you can reach me directly through my business page on Facebook Legacy Forge LLC
Specialties
AFA Certified Farrier
All Breeds & Disciplines
All Soundness Needs
Available For Speaking Events
Barrel Horses
Basic Shoeing
Clips
Cold Shoeing
Cold Shoes For Jumpers
Corrective & Lameness Shoeing
Custom Blacksmithing
Custom Shoeing
Donkeys
Draft Horses
Drafts
Dressage Horses
Eventers
Farrier
Foals & Young Horses Expertise
Founder Treatment
Gaited Horses
General Farrier Work
Gentle
Gentle With The Old Patient With The Young.
Glue On Shoes
Good With Horses
Handmade Shoes
Hoof Cracks
Hoof Resection
Hoof Trimming
Horseman
Horses
Horseshoes
Hot Shoeing
Hunter Jumpers
Hunters
I Have Worked With Horses All My Life
I Show Up On Time Or I Will Make A Call
If Your Horse Has A Hoof Crack
Laminitis Treatment
Miniatures And Donkeys
Mules
Natural Barefoot Trimming
Natural Horsemanship
Natural Trim
Outstanding Quality
Patient
Performance Horse Barefoot Trimming
Performance Horse Shoeing
Pleasure Trail Horses As Well As Competitive Trail & Endurance
Ponies/ Miniatures
Providing Soundness In Horses
Punctual
Punctual And Honest
Quarter Cracks
Regular Shoes And Trims
Reining & Ranch Horses
Rope Horses
Therapeutic Shoeing
Trim To Natural Conformation Of The Horse.
Trimming
Very Dependable
Western Pleasure