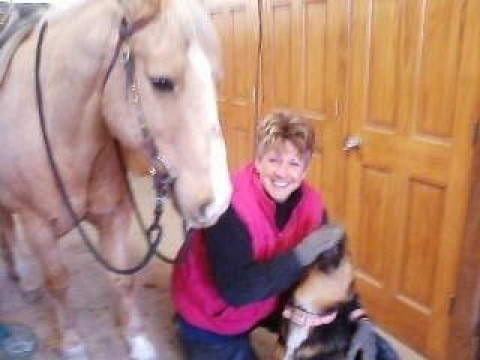 **Please add contact information when submitting a question/inquiry though this advertisement. I get quite a few inquiries without any contact information. **
I am an active endurance rider, competing several horses, barefoot in 50 mile events.
I have a special interest in the rehabilitation of laminitic and foundered horses.
I recently completed several equine nutrition courses offered by Dr. Eleanor Kellon, focusing on improving the diet for laminitic and metabolic horses. I am able to offer a custom mineral supplement balanced to your hay analysis or help you develop your own.
I have attended clinics by Pete Ramey, and the AANHCP trimming program. American Association of Professional Farriers member. Commitment to continuing education.
Services offered: Barefoot Trimming of horses, ponies, minis, donkeys and mules. Fitting of EasyCare Hoof boots, Fitting of Renegade Hoof boots. Shoeing and/or gluing of Epona horse shoes. Gluing of Easyshoes.
Products offered: The complete line of EasyCare products. Renegade Hoof boots, Epona horseshoes. Ground Control Horse shoes.
Specialties
All Breeds & Disciplines
All Soundness Needs
Available For Speaking Events
Basic Shoeing
Boot Fitting
Cold Shoeing
Consultations
Corrective & Lameness Shoeing
Custom Diet Consultation
Custom Hay Analysis
Diagnosing Hoof Problems
Donkeys
EasyCare Hoof Boots
Endurance
Epona Horseshoes
Farrier
Foals & Young Horses Expertise
Founder Treatment
Four-point Trimming & Enhanced Breakover Shoeing
Gaited Horses
General Farrier Work
Gentle
Gentle With The Old Patient With The Young.
Glue On Shoes
Gluing Of Horseshoes
Good With Horses
Ground Control Horseshoes
Hoof Cracks
Hoof Trimming
Horseshoes
Hunter Jumpers
Hunters
I Show Up On Time Or I Will Make A Call
If Your Horse Has A Hoof Crack
Laminitis Treatment
Miniatures And Donkeys
Mules
Natural Balance Hoof Care
Natural Balance Shoeing And Trimming
Natural Barefoot Trimming
Natural Horsemanship
Natural Trim
Navicular Expertise
Outstanding Quality
Patient
Performance Hoof Trimming
Performance Horse Barefoot Trimming
Performance Horse Shoeing
Providing Soundness In Horses
Punctual And Honest
Quarter Cracks
Regular Shoes And Trims
Shoeing For Performance & Soundness In All Horses.
Therapeutic Shoeing
Trim To Natural Conformation Of The Horse.
Trimming
Trimming Instruction
Very Dependable