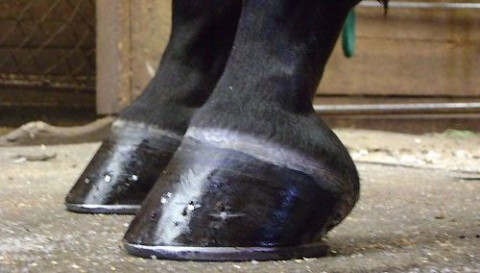 One Call, Four Happy Hoofs! We provide only the best in hoof care to Wright, Hennepin, & Sherburne County. From basic trimming to hot & cold shoeing, to corrective and lameness work. Whether you're looking to enhance their performance in the arena, or striving to keep your equine friend more comfortable, let us help you with your farrier needs! With an anatomy based approach, your horse will be as perfectly balanced as possible; making them sound, comfortable, and maximizing their performance. We offer Basic Trimming, Hot & Cold Shoeing, Corrective Trimming & Shoeing, Pads, & Custom Handmade Shoes for every circumstance. Working with founder/laminitis, navicular disease, thrush, and other hoof conditions or trauma; as well as geriatric, young, and problem horses.
Specialties
All Breeds & Disciplines
All Soundness Needs
Available For Speaking Events
Barrel Horses
Basic Shoeing
Boot Fitting
Clips
Cold Shoeing
Corrective & Lameness Shoeing
Custom Blacksmithing
Draft Horses
Eventers
Foals & Young Horses Expertise
General Farrier Work
Gentle
Gentle With The Old Patient With The Young.
Glue On Shoes
Handmade Shoes
Hot Shoeing
Hunters
Laminitis Treatment
Natural Barefoot Trimming
Navicular Expertise
Outstanding Quality
Performance Horse Barefoot Trimming
Performance Horse Shoeing
Punctual And Honest
Regular Shoes And Trims
Reining & Ranch Horses
Rope Horses
Therapeutic Shoeing
Trimming
Trimming Instruction
Very Dependable
Western Pleasure