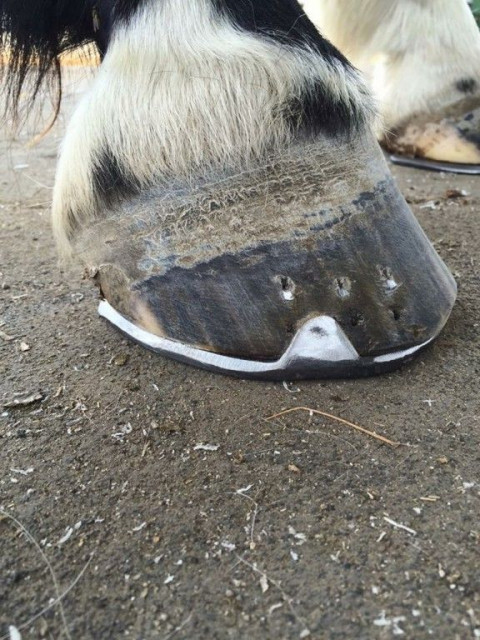 Lauren Mrozowski Professional Farrier Service. Serving California's Central Coast. Please CALL to contact me, or message through Facebook. Unfortunately I cannot respond to inquiries sent through Newhorse.
As a lifelong horse owner myself I am dedicated to the needs of your individual horse and strive to create a customized package that meets their needs and enables them to excel. Whether it be a high level competitor, trail horse, or retiree living out their golden years. Formally trained at Pacific Coast Horseshoeing School, and drawing on years of experience as a horse trainer, and veterinary nurse I look at the whole horse in assessing their hoofcare needs. With this holistic approach, and considering factors such as conformation, movement, saddle fit, rider abilities, discipline, living environment, and pathologies I am able to work with my clients as a "team" to find the best setup for their horse, whether that be barefoot trimming, or customized handmade therapeautic shoes. Every horse is different, and so are their hoofcare needs. The wellbeing of the horse is first and foremost, and I am happy to work with owners, trainers, and veterinarians together to ensure this. Gentle and patient handling. I work with all breeds and disciplines, but special areas of personal interest include dressage horses, reining, cutting, cowhorses, and mules.
Please CALL to contact me. I cannot respond to inquiries sent through Newhorse. CALL (nine seven zero) two one four-five two zero one. Thank you!
Specialties
AAPF Accredited Professional Farrier
Acrylic Hoof Repair
AFA Member
All Breeds & Disciplines
All Soundness Needs
Aluminum
And Kind Handling Techniques
Available For Speaking Events
Balance Trims
Barefoot Trims
Barrel Horses
Basic Shoeing
Boot Fitting
Casting
Clips
Consultations
Corrective
Corrective & Lameness Shoeing
Cusions
Custom Blacksmithing
Custom Shoeing
Custom Shoes
Customized Services
Dedicated To Continuing Education
Diagnosing Hoof Problems
Donkeys
Draft Horses
Drafts
Dressage
Dressage Horses
Drill Tec
Emergency
Endurance
Equi-cast Hoof Casting Material
Eventers
Every Balanced For Peak Performance
Farrier
Foals & Young Horses Expertise
Focus On Communication With The Client
Founder
Founder Treatment
Full Shoes
Gaited Horses
General Farrier Work
Gentle
Gentle With The Old Patient With The Young.
Glue On Shoes
Good With Horses
Great With Horses. Gentle And Honest
Ground Control Shoes
Hand Turned Hunter/jumper/dressage Aluminum Shoes
Handmade Shoes
Hoof Casts
Hoof Cracks
Hoof Pads
Hoof Reconstruction
Hoof Resection
Hoof Trimming
Horse Owner Product And Continuing Education Clinics
Horse Training
Horseman
Horses
Horseshoes
Hot Shoeing
Hunter Jumpers
Hunters
I Have Worked With Horses All My Life
I Show Up On Time Or I Will Make A Call
If Your Horse Has A Hoof Crack
Jumpers
Laminitis
Laminitis Treatment
Member WSFA
Miniatures And Donkeys
Minis
Mules
Natural Balance Hoof Care
Natural Barefoot Trimming
Natural Horsemanship
Natural Shoeing
Natural Trim
Navicular Expertise
Outstanding Quality
Pads
Participate In Shoeing Competitions
Patient
Performance Horse Barefoot Trimming
Performance Horse Shoeing
Please Call To Check My Availability
Pleasure Trail Horses As Well As Competitive Trail & Endurance
Ponies/ Miniatures
Providing Soundness In Horses
Punctual
Punctual And Honest
Quarter Cracks
Regular Attendence At Clinics Conferences And Seminars
Regular Shoes And Trims
Reining & Ranch Horses
Reliable
Rope Horses
Shoeing For Performance & Soundness In All Horses.
Specializing In Perfomance
Therapeutic Shoeing
Thrush
Training
Trim To Natural Conformation Of The Horse.
Trimming
Trimming Instruction
Trims
Very Dependable
Western Pleasure
Work With Horses That May Need Additional Training