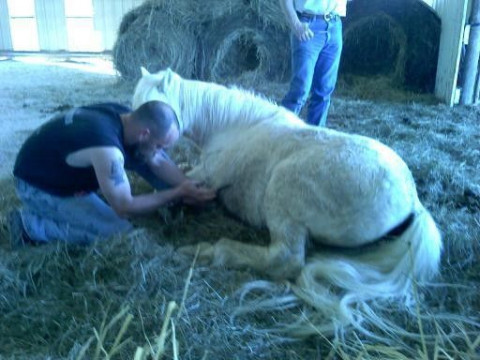 Located in Smoky Lake, AB. James Staveley is certified AFA CF, and BWFA Certified Journeyman 1 and has been working professionally with horses for 15 years, and as a full time farrier for 13. He has experience with most disciples from combined driving, to working cow horses, to draft breeds, to fox hunters and everything in between. In 2009 and 2010 Bow Valley Forge was a part of the World Equestrian Games and provided services to the competitors starting with the qualifying events, through set-up, the games, and tear down. James provides full service hoofcare addressing overall hoof health, weight balance, and movement issues and he has a broad network of vets and farriers across the country to help with particularly complicated cases. His background as a professional horseman has taught him to be gentle with old and sore horses, patient with young ones, and kind to all of them. James will work to keep your horse sound and healthy whether they are FEI caliber competitors, pleasure, or companion horses while at the same time working within a clients financial means.
Specialties
AFA Certified Farrier
All Breeds & Disciplines
All Soundness Needs
Available For Speaking Events
Barrel Horses
Basic Shoeing
Clips
Cold Shoeing
Consultations
Corrective & Lameness Shoeing
Custom Blacksmithing
Custom Shoeing
Draft Horses
Drafts
Dressage Horses
Drill Tec
Endurance
Eventers
Farrier
Foals & Young Horses Expertise
Founder Treatment
Gaited Horses
General Farrier Work
Gentle
Gentle With The Old Patient With The Young.
Glue On Shoes
Good With Horses
Handmade Shoes
Hoof Pads
Hoof Reconstruction
Hoof Resection
Hoof Trimming
Hot Shoeing
Hunter Jumpers
Hunters
I Show Up On Time Or I Will Make A Call
If Your Horse Has A Hoof Crack
Jumpers
Laminitis Treatment
Mules
Navicular Expertise
Outstanding Quality
Performance Horse Shoeing
Pleasure Trail Horses As Well As Competitive Trail & Endurance
Providing Soundness In Horses
Punctual And Honest
Quarter Cracks
Regular Shoes And Trims
Reining & Ranch Horses
Rope Horses
Therapeutic Shoeing
Trimming
Very Dependable
Western Pleasure