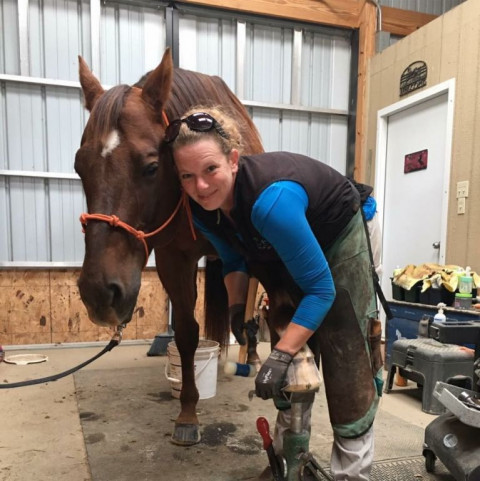 *****To inquire about service and receive a response, please fill out our New Client Introduction Form: http://www.bigriverequine.com/new-client-introduction-form/*****
Specializing in hoof and soft tissue rehabilitation through balanced hoof care and complementary PEMF.
We work with you, your veterinarian, your trainer and other equine care providers to build a high level, unified team of care practitioners for your horse.
Expertise in founder rehabilitation for the chronic laminitic, metabolic, insulin resistant and or Cushing's horse.
Composite shoeing for horses suffering from arthritis, laminitis, wall separation, injury, and more.
General maintenance trims, custom hoof boot heat-fitting, equine thermal imaging and leverage testing are also available.
Specialties
All Soundness Needs
Available For Speaking Events
Basic Shoeing
Boot Fitting
Corrective & Lameness Shoeing
Creates Team With Vet
Dressage Horses
Equine Thermography
Farrier
Founder Treatment
General Farrier Work
Gentle With The Old Patient With The Young.
Glue On Shoes
Hoof Cracks
Hoof Resection
Hoof Trimming
I Show Up On Time Or I Will Make A Call
If Your Horse Has A Hoof Crack
Laminitis Treatment
Natural Barefoot Trimming
Navicular Expertise
Outstanding Quality
Pemf Therapy, Cold Laser
Performance Horse Barefoot Trimming
Performance Horse Shoeing
Providing Soundness In Horses
Punctual And Honest
Regular Shoes And Trims
Seeks Continuing Education
Therapeutic Shoeing
Trim To Natural Conformation Of The Horse.
Trimming
Trimming Instruction
Very Dependable