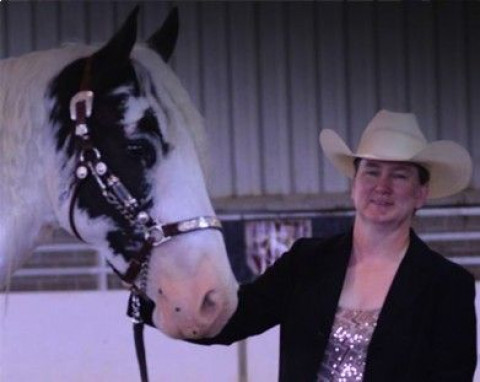 Certified Journeyman Farrier CHRISTINE WHITE Owner/Operator. Tir Na Nog Farrier Services Serving primarily Denison, TX. and immediate area. I have been working with horses for over 30 yrs. with all different breeds and temperaments. The comfort and soundness of your horse is our top priority, whether he/she be shod or barefoot. Both hot and cold shoeing available, and trims to the needs of your horse. We trim and shoe to the Natural Angle of your horse, in doing so we achieve lateral/medial balance, symmetry, and proper toe length. We don't just trim/shoe to the foot, we shoe to the conformation of the whole horse. Studied at the Farriers National Research Center and Graduate of Casey and Son Horseshoeing School. Member Brotherhood of Working Farriers Assoc. Email: or call . References provided upon request.
Services checked off below also include:
*Consultation *Corrective Shoeing
*Trims (All Breeds) *Cold/Hot Shoeing
Specialties
17 Yrs + Professional Service
Accredited Farrier
Acrylic Hoof Repair
All Breeds & Disciplines
All My Work Is Guaranteed. Referencess Available I Work Closely
All Soundness Needs
Aluminum
Always On Time And Reasonable Rates Are Charged.
And Kind Handling Techniques
And Late Is Unacceptable.
Available For Speaking Events
Balance Trims
Barefoot Trims
Barrel Horses
Basic Shoeing
Blacksmith
Boot Fitting
BWFA Certified
Bwfa Cjf
Certified Farrier
Certified Journeyman
Clips
Cold Shoeing
Cold Shoes For Jumpers
Consultations
Corrective
Corrective & Lameness Shoeing
Cusions
Custom Blacksmithing
Custom Shoeing
Custom Shoes
Diagnosing Hoof Problems
Donkeys
Draft Horses
Drafts
Dressage Horses
Drill Tec
Effects Of Shoeing
Emergency
Equi-cast Hoof Casting Material
Eventers
Farrier
Foals & Young Horses Expertise
Founder
Founder Treatment
Foundered Horses
Four-point Trimming & Enhanced Breakover Shoeing
Full Shoes
Gaited Horses
General Farrier Work
Gentle
Gentle With The Old Patient With The Young.
Glue On Shoes
Good With Horses
Great With Horses. Gentle And Honest
Hand Turned Hunter/jumper/dressage Aluminum Shoes
Handmade Shoes
Hoof Cracks
Hoof Pads
Hoof Reconstruction
Hoof Resection
Hoof Trimming
Horse Training
Horseman
Horses
Horseshoes
Hot Shoeing
Hunter Jumpers
Hunters
I Have Worked With Horses All My Life
I Show Up On Time Or I Will Make A Call
If Your Horse Has A Hoof Crack
Jumpers
Laminitis
Laminitis Treatment
Member Of The Brotherhood Of Working Farriers Association
Miniatures And Donkeys
Minis
Mules
Natural Balance
Natural Balance Hoof Care
Natural Balance Shoeing And Trimming
Natural Barefoot Trimming
Natural Barefoot Trims
Natural Horsemanship
Natural Shoeing
Natural Trim
Outstanding Quality
Pads
Patient
Performance Horse Barefoot Trimming
Performance Horse Shoeing
Please Call To Check My Availability
Pleasure Trail Horses As Well As Competitive Trail & Endurance
Ponies/ Miniatures
Providing Soundness In Horses
Punctual
Punctual And Honest
Quarter Cracks
Reasonable
Regular Shoes And Trims
Reining & Ranch Horses
Reliable
Rope Horses
Shoeing For Performance & Soundness In All Horses.
Therapeutic Shoeing
Thrush
Training
Trim To Natural Conformation Of The Horse.
Trimming
Trims
Very Dependable
Vettec Application
Western Pleasure
Whiteline Separation
Will Traval
Work With Horses That May Need Additional Training