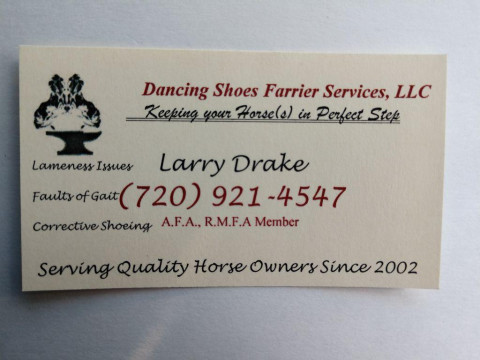 I am Larry J. Drake, I have been serving quality horse owner's since 2002. I am an AFA, RMFA and WCB member. I have experience in all forms of corrective and therapeutic shoeing. My specialty is Naturally Gaited horses. I have worked with most of the veterinarians of the front range area on a wide array of lameness and corrective issues, I.E. Navicular, Laminitis, Founder, White line, Side Bone/ Ring Bone and many many more common hoof and gait issues. I can provide referrals upon request. I look forward to keeping your horse(s) in perfect step.
Specialties
All Breeds & Disciplines
All Soundness Needs
Available For Speaking Events
Barrel Horses
Basic Shoeing
Clips
Consultations
Corrective & Lameness Shoeing
Custom Blacksmithing
Custom Shoeing
Dressage Horses
Eventers
Farrier
Founder Treatment
Four-point Trimming & Enhanced Breakover Shoeing
Gaited Horses
General Farrier Work
Gentle With The Old Patient With The Young.
Good With Horses
Handmade Shoes
Hoof Pads
Hoof Reconstruction
Hoof Resection
Hoof Trimming
Hot Shoeing
Hunters
I Show Up On Time Or I Will Make A Call
If Your Horse Has A Hoof Crack
Jumpers
Laminitis Treatment
Miniatures And Donkeys
Natural Gaited Breeds
Navicular Expertise
Outstanding Quality
Patient
Performance Horse Shoeing
Please Call For Quickest Response.
Please Call To Check My Availability
Ponies/ Miniatures
Providing Soundness In Horses
Punctual And Honest
Regular Shoes And Trims
Therapeutic Shoeing
Trim To Natural Conformation Of The Horse.
Trimming Instruction
Very Dependable