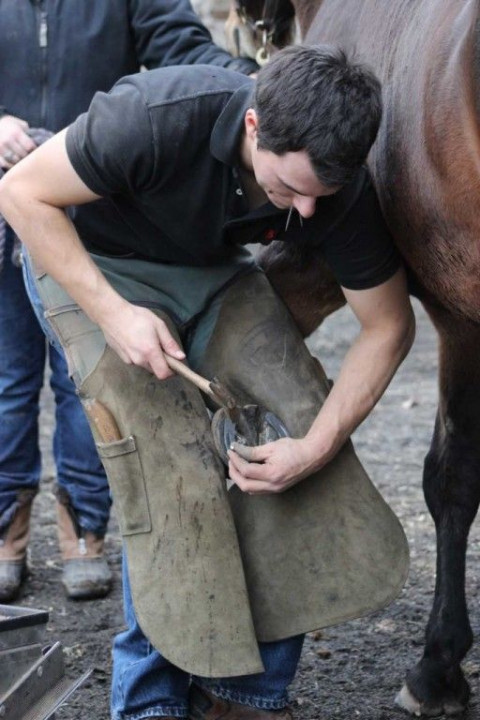 John Sachaczenski For any questions Text or Call me anytime.
Established Tooth & Nail Equine Services, LLC after becoming trained and certified in both equine dentistry and farriery. John entered the equine dental field after graduating from The Equine Gnathological Training Institute. To further his education he attended The American School of Equine Dentistry where he became trained and certified by Dr. Raymond Hyde, DVM. He has helped countless horses with behavioral, performance and health issues.
John acquired his formal education in farrier science from Cornell University Farrier Program under direct instruction from Steve Kraus, CJF. He is a member of the American Farriers Association and has since shod for many different breeds and disciplines working with equine veterinarians and trainers. In addition, he attended Heartland Horseshoeing School training with Chris and Cody Gregory.
With his extensive knowledge of the anatomical structures of the equine limb combined with his understanding of equine gnathology John is able to provide and balance both hoof and dental care for your horse making him highly regarded in the equine industry.
Specialties
AFA Certified Farrier
All Breeds & Disciplines
All Soundness Needs
Available For Speaking Events
Barrel Horses
Basic Shoeing
Boot Fitting
Clips
Corrective & Lameness Shoeing
Custom Blacksmithing
Draft Horses
Dressage Horses
Equine Dentist
Eventers
Foals & Young Horses Expertise
Founder Treatment
General Farrier Work
Gentle
Gentle With The Old Patient With The Young.
Glue On Shoes
Hand Floats
Handmade Shoes
Hoof Resection
Hot Shoeing
Hunters
Laminitis Treatment
Mini Float
Mules
Natural Barefoot Trimming
Outstanding Quality
Performance Floats
Performance Horse Barefoot Trimming
Performance Horse Shoeing
Power Floats
Punctual And Honest
Regular Shoes And Trims
Reining & Ranch Horses
Rope Horses
Therapeutic Shoeing
Trimming
Very Dependable
Western Pleasure