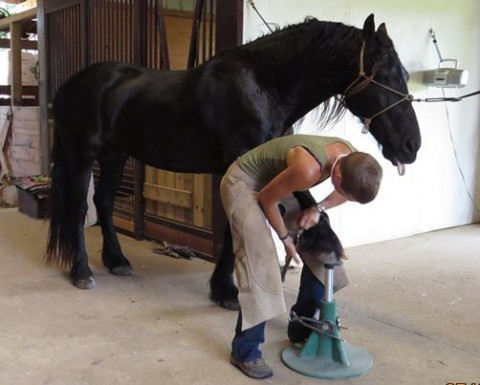 I am passionate about natural hoof trimming. My interest in natural trimming began when one of my horses started to have a lot of trouble with her feet. She had always had soft feet, but they were getting much worse. She developed chronic laminitis so I began to study the hoof.
After countless hours of research and apprenticing with farriers in California, as well as David Harmon in Tennessee, I began shoeing and trimming my own horses. I soon found myself studying the feet of every horse I saw, and it wasn't pretty. I saw many horses that were uncomfortable because their feet were not trimmed properly. This led me to become a professional farrier.
I have since focused my farrier services on natural barefoot trimming. There is a huge difference between trimming a horse that will be shod and trimming one that will be kept barefoot. I still continue to follow and study other barefoot professionals like Pete Ramey. I take great pride in continuing to be a student of the horse hoof. The day I stop learning is the day I have failed my 4 legged clients.
Every horse is unique, and that requires me to trim the hoof in a manner that will allow the horse to function and thrive the way it was designed to be.
www.nashvillefarrier.com
Specialties
All Breeds & Disciplines
All Soundness Needs
Barrel Horses
Boot Fitting
Draft Horses
Dressage Horses
Easy Care Dealer
Eventers
Foals & Young Horses Expertise
Founder Treatment
Gaited Horses
General Farrier Work
Gentle
Gentle With The Old Patient With The Young.
Glue On Shoes
Hoof Resection
Hunters
Laminitis Treatment
Mules
Natural Barefoot Trimming
Navicular Expertise
Outstanding Quality
Performance Horse Barefoot Trimming
Punctual And Honest
Reining & Ranch Horses
Rope Horses
Trimming
Trimming Instruction
Very Dependable
Western Pleasure