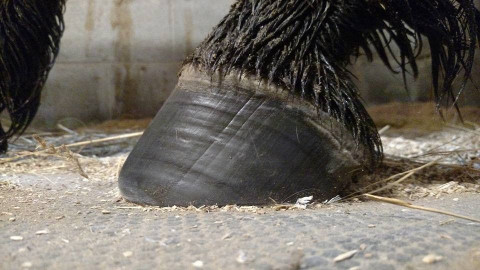 **Please do not use the provided form to contact me. Please text or email to speak to me directly.**
Balanced barefoot hoof care services for the equines of Central Virginia.
My goal as a trimmer is to improve the soundness and health of your horse and allow their hooves to function properly as nature intended. I am an advocate for the horse in all situations, insistent that horses be kept in a species appropriate manner and receive the best hoof care and diet. I use precise measuring and mapping techniques to restore balance, correct pathologies and distortions, and promote a healthy horse from the ground up.
While recognizing that each limb affects the others and the rest of the body, I treat each hoof as an individual. I understand that there are many factors that influence the soundness of your horse, and I am happy to discuss them with you.
I specialize in founder and general neglect cases, but I also happily take on healthy clients. I trim standard horses, as well as drafts, donkeys, mules, and minis.
While I am an advocate for proper trimming whether horses are barefoot or shod, I always recommend an environment/management change and hoof boots for protection before other means of protection are considered.
Visit my website for more information: www.wildatheartbarefoottrimming.webs.com
To set up an appointment, please email
Specialties
All Breeds & Disciplines
All Soundness Needs
Amelia
Barefoot
Barefoot Hoof Care
Barefoot Trimming
Boot Fitting
Consultations
Donkeys
Draft Horses
Dressage Horses
Eventers
Farrier
Foals & Young Horses Expertise
Founder Treatment
Gaited Horses
General Farrier Work
Gentle
Gentle With The Old Patient With The Young.
Good With Horses
Hoof Cracks
Hoof Resection
Hoof Trimming
Horses
Hunter Jumpers
Hunters
I Show Up On Time Or I Will Make A Call
If Your Horse Has A Hoof Crack
Jumpers
Laminitis Treatment
Miniatures And Donkeys
Mules
Natural Barefoot Trimming
Natural Trim
Navicular Expertise
Outstanding Quality
Patient
Performance Horse Barefoot Trimming
Pleasure Trail Horses As Well As Competitive Trail & Endurance
Ponies/ Miniatures
Powhatan
Providing Soundness In Horses
Punctual
Punctual And Honest
Quarter Cracks
Richmond
Thrush
Trimming
Trimming Instruction
VA
Very Dependable
Western Pleasure