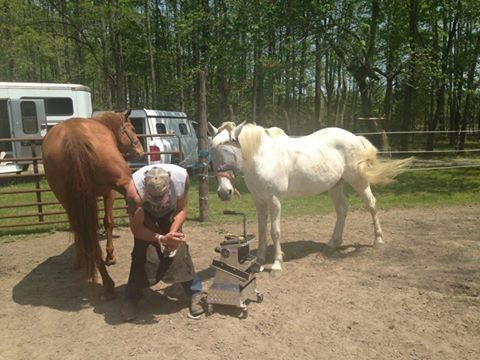 When you respond to our ad, we are not able to see your contact information. If you would like us to contact you, please leave some form of contact information.
Choosing a competent farrier is the most important decision you will make for the welfare of your horse. There is an old saying that goes, No hoof...No Horse. Improper hoof care can lead to injury and/or lameness, and may reduce your horse's ability to reach his full potential or incapacitate him for life. Quality hoof care is the foundation of a healthy and happy horse. Your horse should not be neglected. Poor or sporadic hoof care can affect almost every aspect of your horse's life whether they are out in the pasture, on the trail or in the show ring. I have 20 plus years of experience trimming horses. I offer corrective trimming and shoeing. I am patient, kind, and work with problem horses as well.
Specialties
All Soundness Needs
Consultations
Corrective & Lameness Shoeing
Custom Blacksmithing
Custom Shoeing
Diagnosing Hoof Problems
Donkeys
Draft Horses
Farrier
Foals & Young Horses Expertise
Founder Treatment
Four-point Trimming & Enhanced Breakover Shoeing
General Farrier Work
Gentle
Gentle With The Old Patient With The Young.
Glue On Shoes
Good With Horses
Hoof Cracks
Hoof Pads
Hoof Reconstruction
Hoof Trimming
Horseshoes
I Show Up On Time Or I Will Make A Call
If Your Horse Has A Hoof Crack
Laminitis Treatment
Miniatures And Donkeys
Mules
Natural Balance Hoof Care
Natural Balance Shoeing And Trimming
Patient
Ponies/ Miniatures
Providing Soundness In Horses
Punctual And Honest
Quarter Cracks
Regular Shoes And Trims
Rope Horses
Therapeutic Shoeing
Training
Trim To Natural Conformation Of The Horse.
Trimming
Very Dependable
Work With Horses That May Need Additional Training