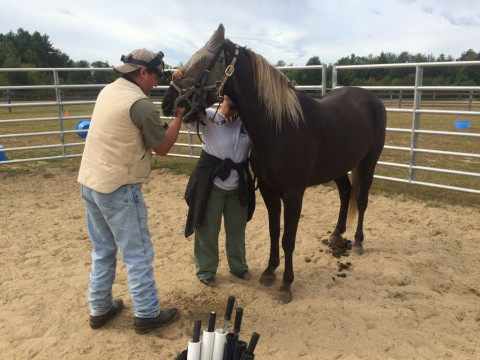 Kris Kokal is currently attending Cornell's Farrier program and plans on a May 2016 completion. Kris graduated form Sur Shod Shoeing Academy in 2004 and completed a barefoot trim certification after two years of mentorships and traveling to the UK to complete his studies in 2006. He has 12 years experience working with all breeds as a trainer, trimmer and shoer. Kris is a certified Equine Dental Technician graduating in 2011. Kris hand floats without sedation.
Brothers Kris and Nik Kokal started HorseTenders LLC 2004 as a trim, shoeing and training business when teenagers and quickly earned a reputation for working with horses no one else would work with and doing so in a quiet positive manner. Nik Kokal, put himself through college as a barefoot trimmer, plans a May 2016 graduating from the 5 year DVM program at University of Galsgow.
HorseTenders LLC will gladly help owners teach horses how to pick up hooves for long term success. HT also specializes in the difficult horse, helping to retrain the horse in a patient manner. HT offers 3 and 5 day Horsemanship Camps to teach their Mettle without Metal training methods to new horse owners and experienced horse people looking to expand their skills. Details can be found at www.horsetenders.com under Camps and Clinics. Treating owners and their horses with respect and patience what HT is known for and excels at doing. Currently scheduling appointments.
Specialties
All Breeds & Disciplines
All Soundness Needs
Available For Speaking Events
Basic Shoeing
Boot Fitting
Clinics.
Clips
Corrective & Lameness Shoeing
Custom Blacksmithing
Dental Floats Without Sedation
Foals & Young Horses Expertise
Founder Treatment
Gaited Horses
General Farrier Work
Gentle
Gentle With The Old Patient With The Young.
Glue On Shoes
Handmade Shoes
Horsemanship Camps
Hot Shoeing
Laminitis Treatment
Natural Barefoot Trimming
Performance Horse Barefoot Trimming
Performance Horse Shoeing
Punctual And Honest
Regular Shoes And Trims
Reining & Ranch Horses
Rope Horses
Therapeutic Shoeing
Training
Trimming
Trimming Instruction
Very Dependable