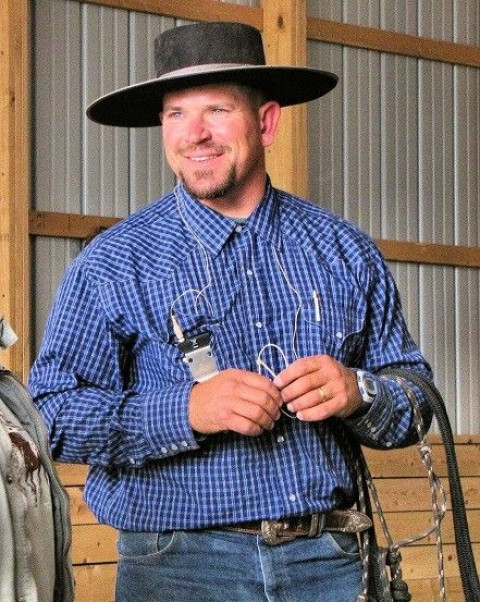 I am currently accepting a limited number of new clients for the 2016 year.
I have 17+ years of experience shoeing horses and over 20 years training and working with all types of horses and cattle.
I am a 1999 graduate of the horse shoeing school located at Montana State University.
This is one part of my horse business, so I am only taking on a limited number of new clients.
If your horse is new to having their feet worked with or has experienced a problem in the past with hoof care, I offer services to help prepare you and your horse so that the "shoeing" experience is one that is rewarding and sets all of us on the path for successful future hoof care.
I am a horseman that is skilled and experienced in working with young horses and first timers. As well as special needs horses that require extra attention and professional handling to make the shoeing experience a rewarding one.
My methods are quiet, safe and beneficial for both horse and owner.
I have good relationships with the local vets and will work closely with them when needed.
Client/Veterinarian references available upon request.
PRICES FOR 2016
- Trims - $35.00
- Straight Shoe - $85.00
- Winter shoeing - Price determined by need and application
- Corrective Shoeing - Price determined by need and application
- Preparatory handling for hoof care for you and your horse if needed and required for a safe experience - $50/hour flat rate
- Minimal ranch call fee depending on location
For further questions or to check on schedule space please call, text or email me.
WEBSITE: www.bohenekhorsemanship.com
EMAIL:
Specialties
AFA Certified Farrier
All Breeds & Disciplines
All Soundness Needs
Available For Speaking Events
Balance Trims
Barefoot Trims
Barrel Horses
Basic Shoeing
Boot Fitting
Cold Shoeing
Consultations
Corrective
Corrective & Lameness Shoeing
Custom Shoeing
Diagnosing Hoof Problems
Donkeys
Dressage Horses
Drill Tec
Endurance
Eventers
Every Balanced For Peak Performance
Farrier
Foals & Young Horses Expertise
Founder
Founder Treatment
Four-point Trimming & Enhanced Breakover Shoeing
Full Shoes
Gaited Horses
General Farrier Work
Gentle
Gentle With The Old Patient With The Young.
Glue On Shoes
Good With Horses
Great With Horses. Gentle And Honest
Ground Control Shoes
Hoof Cracks
Hoof Pads
Hoof Reconstruction
Hoof Resection
Hoof Trimming
Horse Training
Horseman
Horses
Horseshoes
Hunters
I Have Worked With Horses All My Life
I Show Up On Time Or I Will Make A Call
If Your Horse Has A Hoof Crack
Jumpers
Laminitis
Laminitis Treatment
Miniatures And Donkeys
Minis
Mules
Natural Balance
Natural Balance Hoof Care
Natural Balance Shoeing And Trimming
Natural Barefoot Trimming
Natural Horsemanship
Natural Shoeing
Natural Trim
Navicular Expertise
Outstanding Quality
Pads
Patient
Performance Horse Barefoot Trimming
Performance Horse Shoeing
Please Call To Check My Availability
Pleasure Trail Horses As Well As Competitive Trail & Endurance
Ponies/ Miniatures
Providing Soundness In Horses
Punctual
Punctual And Honest
Quarter Cracks
Regular Shoes And Trims
Reining & Ranch Horses
Rope Horses
Shoeing For Performance & Soundness In All Horses.
Specializing In Perfomance
Therapeutic Shoeing
Training
Trim To Natural Conformation Of The Horse.
Trimming
Trimming Instruction
Trims
Very Dependable
Western Pleasure
Work With Horses That May Need Additional Training