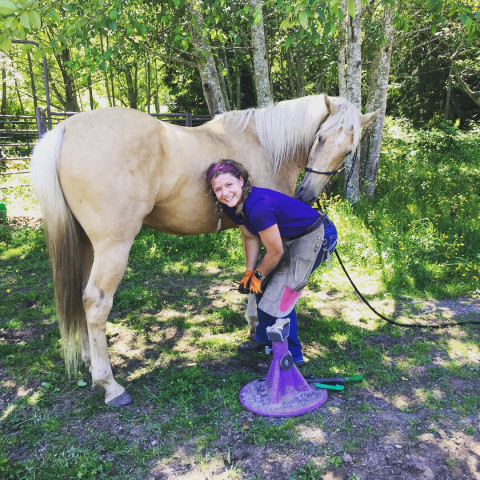 Being a opened minded hoof care provider, I bring a lot of "out of the box" ideas when it comes to helping horses. I know that not every horse is the same, so why try and trim and shoe/boot the same? I will evaluate every horse differently and individually. Having rehabilitation cases under my belt has brought me to this mindset. Every horse is different. Founder, laminitis, navicular, club foot....or just a maintenance trim. I have been specializing in barefoot trimming for the past 5 years and have rehabbed many horses out of traditional metal shoes. I am dedicated to my clients needs when it comes to helping their horses transition to barefoot.
I am now excepting new clients.
My philosophies are based on balance and what is best for the health of the horse. I find having a calm demeanor is extremely important when working with horses as well! And a whole lot of patience. When I bring this attitude and energy to every appointment, things run a lot smoother, in my opinion.
I am a member of Progressive Hoof care Practitioners. And a member of the ELPO (equine lameness prevention organization)
My price is $50 per horse OR more depending on travel and needs of the horse. I will be moving from WA to Southern Idaho in the winter of 2021, so right now I am encouraging you to send me an email to get on my list so i am able to schedule you soon!
Please send me a message and we will talk about your equine/equines!
Thank you!
Specialties
All Breeds & Disciplines
All Soundness Needs
Barrel Horses
Boot Fitting
Corrective & Lameness Shoeing
Donkeys
Draft Horses
Dressage Horses
Eventers
Foals & Young Horses Expertise
Founder Treatment
Gaited Horses
General Farrier Work
Gentle
Gentle With The Old Patient With The Young.
Glue On Shoes
Glue on Shoes, Easyshoe, Epona, Sigafos
Glue on Shoes/composite Shoes
Good With Horses
Hoof Cracks
Hoof Resection
Hoof Trimming
If Your Horse Has A Hoof Crack
Laminitis Treatment
Miniatures And Donkeys
Mules
Natural Barefoot Trimming
Outstanding Quality
Patient
Performance Horse Barefoot Trimming
Ponies/ Miniatures
Punctual And Honest
Reining & Ranch Horses
Rope Horses
Therapeutic Shoeing
Trimming
Very Dependable
Western Pleasure