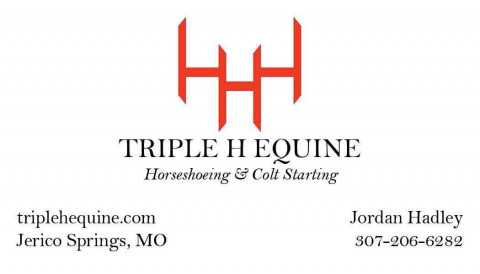 HAUL-INS ONLY! If you have at least 10 trims or 5 full sets of shoes I will travel to you. My prices to haul them to me are substantially lower than my traveling prices. I am the most AFFORDABLE, and QUALITY hoof-care in the 4 state area. Triple H Equine is here to offer our skill to meet your needs! We believe that we have set a personal standard that few can achieve, and we daily strive to meet that standard. We are simply striving for excellence, and accepting nothing less. Our main goal is to preserve the horse through sound horsemanship and quality shoeing. Our secondary goal is to educate horse owners on the extreme need to properly care for their animals. We offer: Corrective, therapeutic, pathological, hot shoeing, using only the best technique with a knowledgeable understanding of the anatomy of the horse. We also offer horsemanship, colt starting, tune-ups, work with troubled horses, and Horsemanship and Horseshoeing Clinics. If we can help you or your horse in any way please call now!
Accepting HAUL-IN CLIENTS ONLY! Bring them to me, and save a ton of money.
Triple H Equine has a strict NO TOLERANCE POLICY on horses that cannot stand to be shod or trimmed. If they have never been worked on then do not call me unless you are interested in a training program.
Jordan Hadley, Owner
Email:
Phone: Call or text
Check us out on Facebook: Triple H Equine
Instagram: TripleHhorseshoeing
Twitter: TripleHFarrier
Specialties
1
All Soundness Needs
Available For Speaking Events
Barrel Horses
Basic Shoeing
Clips
Cold Shoeing
Colt Starting 4
Corrective & Lameness Shoeing
Custom Blacksmithing
Day Work 5
Diagnosing Hoof Problems
Donkeys
Draft Horses
Dressage Horses
Eventers
Farrier
Foals & Young Horses Expertise
Founder Treatment
Gaited Horses
General Farrier Work
Gentle
Gentle With The Old Patient With The Young.
Glue On Shoes
Good With Horses
Handmade Shoes
Hoof Cracks
Hoof Resection
Hoof Trimming
Horsemanship Clinics 2
Horseshoeing Clinics 3
Hot Shoeing
I Show Up On Time Or I Will Make A Call
If Your Horse Has A Hoof Crack
Laminitis Treatment
Mules
Natural Barefoot Trimming
Navicular Expertise
Outstanding Quality
Pads/ Pour-Ins
Patient
Performance Horse Barefoot Trimming
Performance Horse Shoeing
Punctual And Honest
Regular Shoes And Trims
Reining & Ranch Horses
Rope Horses
Therapeutic Shoeing
Trim To Natural Conformation Of The Horse.
Trimming
Trimming Instruction
Troubled Horses
Very Dependable
Western Pleasure