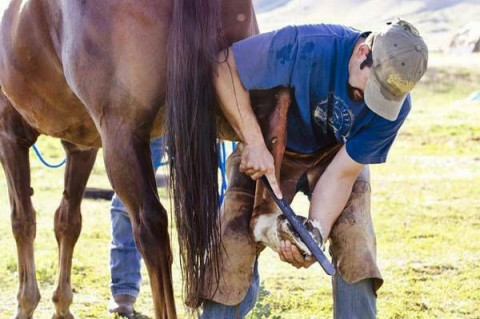 Bidlack Farriery, LLC strives to provide exceptional farrier care that is customized to your horse's specific conformational and performance needs, while protecting, supporting, and encouraging optimal hoof and joint health. Our first priority is long term soundness and longevity of each horse, and we believe that a horse's care and quality of life is not dictated or justified by his use or ability. Each and every horse deserves kindness, comfort, and health, regardless of age, breed, or circumstances. Our mission at Bidlack Farriery, LLC, is to provide the highest quality farrier care to performance, recreational, and family horses in north central Montana. We believe in gentleness, tenderness, and genuine care for each and every horse we see, and strive to create a healthy and positive experience for both horses and owners. Bidlack Farriery, LLC is dedicated to long term relationships and committed horse owners who value professionalism, knowledge, experience, integrity, and skill, and who expect their horses handled with respect and consideration. Bidlack Farriery, LLC, is founded on horsemanship and incorporates both modern science and established farrier methods into practice. We hold ourselves accountable to our faith, both personally and professionally, and believe that stewardship of God's creation deserves great compassion, concern, and care. We look forward to the opportunity to improve the lives of horses and people in our local equine community, and promote responsible and exceptional animal husbandry within our agricultural industry.
Specialties
All Breeds & Disciplines
All Soundness Needs
Available For Speaking Events
Barrel Horses
Basic Shoeing
Boot Fitting
Clips
Cold Shoeing
Corrective & Lameness Shoeing
Custom Blacksmithing
Draft Horses
Dressage Horses
Eventers
Foals & Young Horses Expertise
Founder Treatment
General Farrier Work
Gentle
Gentle With The Old Patient With The Young.
Glue On Shoes
Hot Shoeing
Hunters
Laminitis Treatment
Mules
Natural Barefoot Trimming
Navicular Expertise
Outstanding Quality
Performance Horse Barefoot Trimming
Performance Horse Shoeing
Punctual And Honest
Regular Shoes And Trims
Reining & Ranch Horses
Rope Horses
Therapeutic Shoeing
Trimming
Very Dependable
Western Pleasure