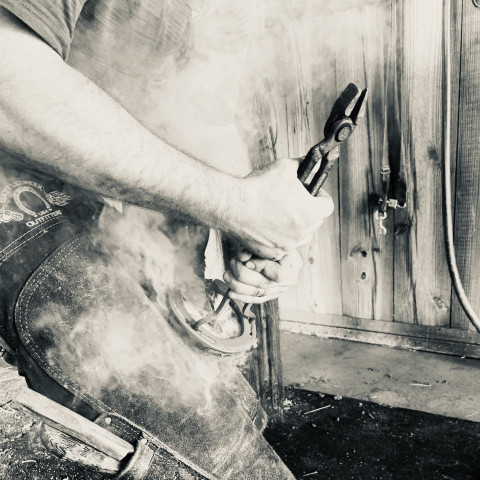 Professional & experienced farrier based out of Greenville TX with 10+ years of experience and proven knowledge of equine dynamics providing the best care for your athlete's needs.
I provide the following services and tailor each shoeing to the specific needs of your horse:
Hot Shoeing
Cold Shoeing (performed when the horse is unable to handle the sounds and smells of hot shoeing or when using aluminum)
Corrective/Therapeutic Shoeing (to correct lameness, injury, and hoof diseases and imbalances)
Custom Made Shoes (created by hand to meet the individual needs of your horse and/or discipline)
Glue On Shoes (normally for therapeutic use)
Barefoot Trimming
About my fee structure:
I do not post a flat fee for shoeing services because each situation is different and will require materials and time that will need to be calculated at our initial consultation.
Business Hours: Monday - Friday 8AM-5PM
Specialties
Abscess
All Soundness Needs
Clips
Corrective & Lameness Shoeing
Custom Blacksmithing
Dressage Horses
Eventers
Farrier
Foals & Young Horses Expertise
Founder Treatment
Gentle
Gentle With The Old Patient With The Young.
Glue On Shoes
Handmade Shoes
Hoof Cracks
Hoof Reconstruction
Hoof Resection
Hot Shoeing
Hunters
If Your Horse Has A Hoof Crack
Laminitis Treatment
Natural Barefoot Trimming
Navicular Expertise
Outstanding Quality
Performance Horse Barefoot Trimming
Performance Horse Shoeing
Ponies/ Miniatures
Punctual And Honest
Rope Horses
Therapeutic Shoeing
Thrush
Very Dependable
Western Pleasure