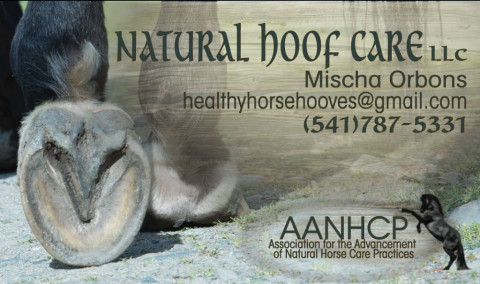 * Please contact me directly by texting (preferred) or calling for more information! If you fill out NewHorse.com's Contact Form, please include your phone number in the "How can we help you?" section or I will not be able to see your contact information! *
Offering hoof care services for equines in southern Oregon:
Natural Hoof Care practitioner internationally trained through the ISNHCP program of Jaime Jackson, founder of NHC. (see www.isnhcp.net / www.aanhcp.net for more info)
NHC is a whole horse approach based on the wild horse model, including natural boarding, a reasonably natural diet, balanced horsemanship, and the natural trim. This is a trim method that mimics the wear patterns of wild, free roaming horses of the U.S. great basin or similar adaptive biomes.
Your horse's hooves will generally need to be trimmed on a 6-8 week schedule, depending on the condition of the hooves, the environment the horse is kept in, the amount of movement the horse has on a daily basis, and the amount of rehabilitation necessary for the horse to grow out a healthy hoof. A healthy barefoot horse is sure-footed on any terrain, and can perform in any discipline of horsemanship.
Besides hoof trimming, free consultations on natural boarding, diet and hoof boots are also included in the hoof care services I provide. I travel up to 1 1/2 hrs to see hoof care clients.
Wondering why you would want to choose a ' natural farrier' / 'barefoot trimmer' ? For more information about the ins and outs of natural hoof care, go to: https://paddockparadise.eu/en/hoofcare/. This website was made by my European ISNHCP instructors Bjorn Rhebergen and Dario Arcamore and is very comprehensible for both beginning and more experienced horse owners.
Feel free to contact me,
Mischa Orbons
NHC practitioner
Natural Hoof Care LLC
Our Vital Mission:
"The vital mission of the ISNHCP is to advance the humane care and management of domestic equines worldwide through the application of proven practices and principles based on the research and findings of wild, free roaming equines living naturally in the U.S. Great Basin."
Specialties
All Breeds & Disciplines
All Soundness Needs
Barrel Horses
Boot Fitting
Diet Consulation
Donkeys
Dressage Horses
Eventers
Farrier
Foals & Young Horses Expertise
Founder Treatment
Gaited Horses
Gentle
Gentle With The Old Patient With The Young.
Good With Horses
Hoof Cracks
Hoof Trimming
Hunters
Laminitis Treatment
Miniatures And Donkeys
Mules
Natural Barefoot Trimming
Natural Boarding
Outstanding Quality
Patient
Performance Horse Barefoot Trimming
Ponies/ Miniatures
Reining & Ranch Horses
Rope Horses
Trimming
Very Dependable
Western Pleasure