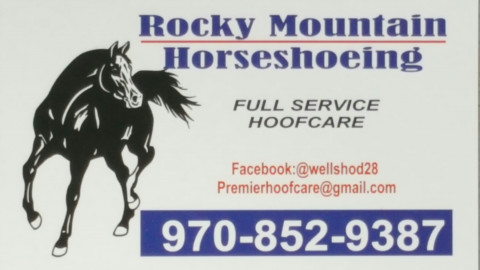 Rocky Mountain Horseshoeing.
Located in Grand Junction and serving the western slope of Colorado. The owner of Rocky Mountain Horseshoeing, Chris APF-I, has been providing punctual, reliable full service hoof care since 2002. We strive to provide quality work at a very fair price. All of our shoeing jobs come with a six week garuntee.
Chris APF-I, apprenticed for two years under Don Deroche in Idaho. He continues to further his education in the field of farrier science by continual reading of textbooks and select continuing education classes in areas of interest. He has studied the work, theories, and practices of D.M. Canfield, Don Baskins, Pete Ramey, Dr Stephen O'Grady DVM, MRCVS, Dr. Ric Redden DVM of the International Equine Podiatry Center, and Dr. Doug Butler. All equines are welcome, Including: Donkeys, Mules, Miniature horses, Saddle Horses, and Draft Horses. We offer standard trims and shoes, corrective trims and shoes, theraputic shoeing, and barefoot trimming. Chris is patient with young and inexperienced, or older, not so flexible horses. We will also work with your veterinarian to ensure that your horse's individual hoof-care needs are met. For more information and photos, please see our Facebook page (username: @wellshod28)
Specialties
All Breeds & Disciplines
All Soundness Needs
Barrel Horses
Basic Shoeing
Boot Fitting
Clips
Cold Shoeing
Corrective & Lameness Shoeing
Donkeys
Draft Horses
Dressage Horses
Eventers
Farrier
Foals & Young Horses Expertise
Founder Treatment
Gaited Horses
General Farrier Work
Gentle
Gentle With The Old Patient With The Young.
Glue On Shoes
Good With Horses
Handmade Shoes
Hoof Cracks
Hoof Resection
Hoof Trimming
Hot Shoeing
Hunters
If Your Horse Has A Hoof Crack
Laminitis Treatment
Miniatures And Donkeys
Mules
Natural Barefoot Trimming
Navicular Expertise
Outstanding Quality
Patient
Patient With Inexperienced Horses
Performance Horse Barefoot Trimming
Performance Horse Shoeing
Ponies/ Miniatures
Punctual And Honest
Regular Shoes And Trims
Reining & Ranch Horses
Reliable
Rope Horses
Therapeutic Shoeing
Trimming
Very Dependable
Western Pleasure