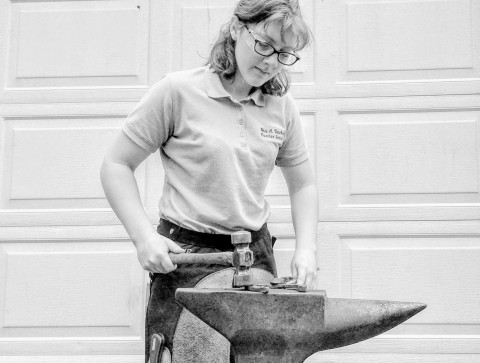 (**PLEASE CONTACT ME ONLY BY VISITING**: https://miadfarrier.wixsite.com/madfarriers
This is the only way to ensure I will reply to your inquiry. Thank you!)
Cornell certified farrier happily servicing the equine hoof care needs in upstate New York. As a graduate of the only farrier school that works directly with a veterinary hospital, I have experience seeing a wide range of horses, their hoof pathologies, and the best methods of treatment. I follow the hoof care principles of Cornell University in my day-to-day practice to ensure your horses' soundness.
My core values:
~ Honest client relations – No BS. No gimmicks.
~ Reliability: Arrives to appointments on time and returns calls/messages promptly.
~ Good communications: I am happy and willing to openly discuss any concerns you may have regarding your horses' hooves and his or her performance.
~ Quality hoof care for every horse: Whether they are broodmares or performance horses, every horse's soundness is equally important to me.
~ A patient, gentle hand. Instead of dreading farrier day, I want the experience to be pleasurable for your horses and will try my best to keep them comfortable during the appointment.
~ An open mind. In my practice, my goal is to keep your horses sound regardless if they are kept barefoot, shod, or in glue-on's. A variety of services are offered and I am happy to work with you when deciding the best hoof care for your horses.
Thank you for any consideration!
Specialties
All Breeds & Disciplines
All Soundness Needs
American Farriers Association Student Member
Basic Shoeing
Boot Fitting
Clips
Cornell University Certified
Corrective & Lameness Shoeing
Donkeys
Farrier
Foals & Young Horses Expertise
Founder Treatment
General Farrier Work
Gentle
Gentle With The Old Patient With The Young.
Glue On Shoes
Good Client Relations
Good Communication
Good With Horses
Hoof Cracks
Hoof Trimming
Hot Shoeing
If Your Horse Has A Hoof Crack
Laminitis Treatment
Miniatures And Donkeys
Mules
Natural Barefoot Trimming
Navicular Expertise
Outstanding Quality
Patient
Performance Horse Barefoot Trimming
Ponies/ Miniatures
Punctual And Honest
Regular Shoes And Trims
Reliable
Returns Phone Calls, Texts, and Emails Promptly
Therapeutic Shoeing
Trimming
Trimming Instruction
Very Dependable