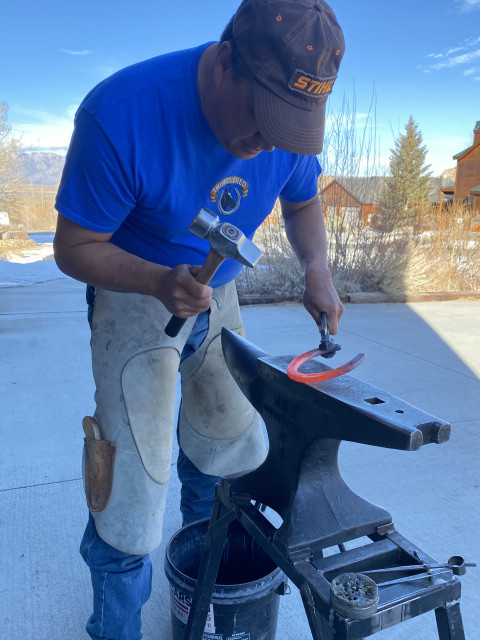 Professional and punctual hoof care services for all types of horses and disciplines. 30 years experience as a farrier with an emphasis on corrective shoeing and lameness evaluations. I have extensive experience shoeing hunters, jumpers, western performance, english and dressage. Fully equipped mobile shoeing rig. Multiple types of shoes on hand, including aluminum and specialty shoes. I can reconstruct hoof walls, install pads, traction devices, sliders, and hand make custom shoes. Versed in the natural balance shoeing and PLR styles. Extensive training and experience in the EDSS applications. Up to date on the latest technology and education concerning hoof care. Current Member of the Western States Farriers Association. Vet recommended and references available upon request. Also available for lectures and instructional seminars. Emergency work and services available 7 days a week and on call. Basic full set of shoes start at $185. I predominately service Mono and Inyo Counties. I am available to provide services to Southern California or Southern NV for large accounts with travel fees. If you do not wish to pay travel fees, you can schedule to bring your horse to my facility. Thank you for considering my services for your hoofcare needs. Rick Moberly, Farrier.
*** PLEASE CONTACT ME DIRECTLY. Messages delivered through newhorse are NOT guaranteed to reach me! Text or call for inquiry. Thank you. ***
Specialties
All Breeds & Disciplines
All Soundness Needs
Available For Speaking Events
Clips
Corrective & Lameness Shoeing
Dressage Horses
Emergency Services on Call. Any Time.
Founder Treatment
Fully Equipped Modern Farrier Rig
General Farrier Work
Good With Horses
Hoof Cracks
Hoof Resection
Hoof Trimming
Hot Shoeing
If Your Horse Has A Hoof Crack
Laminitis Treatment
Mobile Farrier Service
Natural Barefoot Trimming
Navicular Expertise
Patient
Performance Horse Shoeing
Punctual And Honest
Regular Shoes And Trims
Reining & Ranch Horses
Rope Horses
Therapeutic Shoeing
Trimming
Trimming Instruction
Very Dependable
Vet Recommended
Western Pleasure