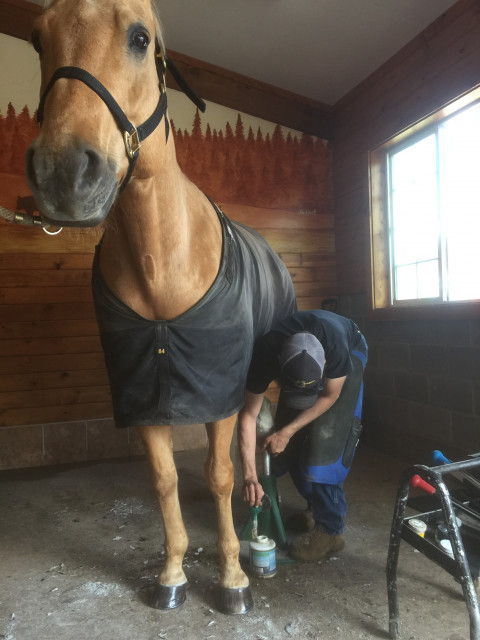 Ian Stater- Certified Professional Farrier
Located in the Albany/Jefferson area.
I CANT ALWAYS SEE YOUR CONTACT INFORMATION. PLEASE CONTACT ME DIRECTLY AT (five four one)nine seven four three six four six.
Custom hot shoeing and trims
I do not do drafts, I will do goats if you also have horses.
In the fall of 2016, I found my passion for farriery. After serving time in the military and traveling extensively, I worked a variety of jobs that didn't quite fulfill me. I began taking classes at Oregon Farrier School in 2017, where I graduated at the top of my class. I continue to ride along with other farriers as well as attend veterinary/farrier clinics to improve my skills and knowledge base. From 2016 to 2019, I volunteered my time with the Equitarian Initiative (whose international veterinary and farrier programs are invaluable) where I worked with the mules, donkeys and horses that help uphold the economy. I continue to work at equine rescues and sanctuaries in order to help those in our own community.
Prices:
1 Trim- $60
Half set regular shoeing- $130
Full set regular shoeing- $190
Specialized/corrective shoeing- Prices will vary.
I CANT ALWAYS SEE YOUR CONTACT INFORMATION. PLEASE CONTACT ME AT MY NUMBER DIRECTLY
Specialties
All Breeds & Disciplines
All Soundness Needs
Barrel Horses
Basic Shoeing
Clips
Cold Shoeing
Corrective & Lameness Shoeing
Custom Blacksmithing
Donkeys
Farrier
Foals & Young Horses Expertise
Founder Treatment
Gaited Horses
General Farrier Work
Gentle
Gentle With The Old Patient With The Young.
Good With Horses
Handmade Shoes
Hoof Cracks
Hoof Resection
Hoof Trimming
Hot Shoeing
If Your Horse Has A Hoof Crack
Laminitis Treatment
Miniatures And Donkeys
Mules
Navicular Expertise
Outstanding Quality
Patient
Performance Horse Shoeing
Ponies/ Miniatures
Punctual And Honest
Regular Shoes And Trims
Reining & Ranch Horses
Rope Horses
Therapeutic Shoeing
Trimming
Very Dependable
Western Pleasure