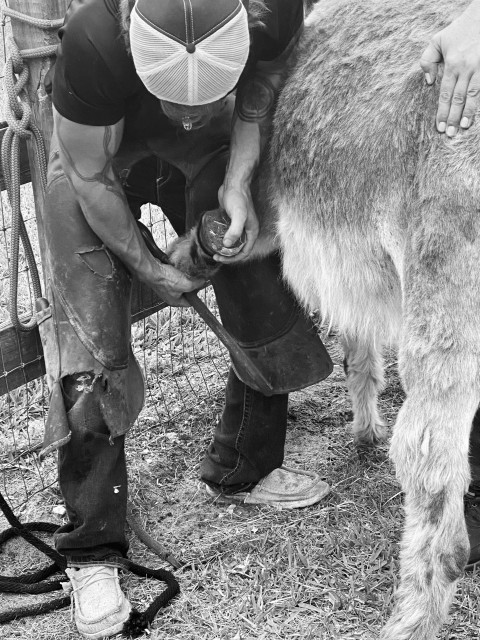 I have years of experience with all styles of riding English and Western. I have been shoeing since i was young. I am certified. I offer Hot, Cold, and Corrective shoeing along with corrective and basic trims. My biggest strength is corrective shoeing. I am very good with lame horses along with young or abused horses. I have a very high patience level and can work as slow or as fast as needed. I do travel all over South FL. I go as far up as Tampa area on the west coast all the way down, and as far up as the Melbourne area on the east coast all the way down and anywhere between. I am very responsible about keeping horses on a schedule and calling clients back.
Specialties
All Breeds & Disciplines
All Soundness Needs
Available For Speaking Events
Barrel Horses
Basic Shoeing
Boot Fitting
Clips
Cold Shoeing
Corrective & Lameness Shoeing
Custom Blacksmithing
Donkeys
Draft Horses
Dressage Horses
Eventers
Farrier
Foals & Young Horses Expertise
Founder Treatment
Fungus Treatment Knowledge, Alternative Lameness Advice
Gaited Horses
General Farrier Work
Gentle
Gentle With The Old Patient With The Young.
Glue On Shoes
Good With Horses
Hoof Cracks
Hoof Resection
Hoof Trimming
Hot Shoeing
Hunters
If Your Horse Has A Hoof Crack
Laminitis Treatment
Miniatures And Donkeys
Mules
Navicular Expertise
Outstanding Quality
Patient
Performance Horse Barefoot Trimming
Performance Horse Shoeing
Ponies/ Miniatures
Punctual And Honest
Regular Shoes And Trims
Reining & Ranch Horses
Rope Horses
Therapeutic Shoeing
Trimming
Trimming Instruction
Very Dependable
Western Pleasure