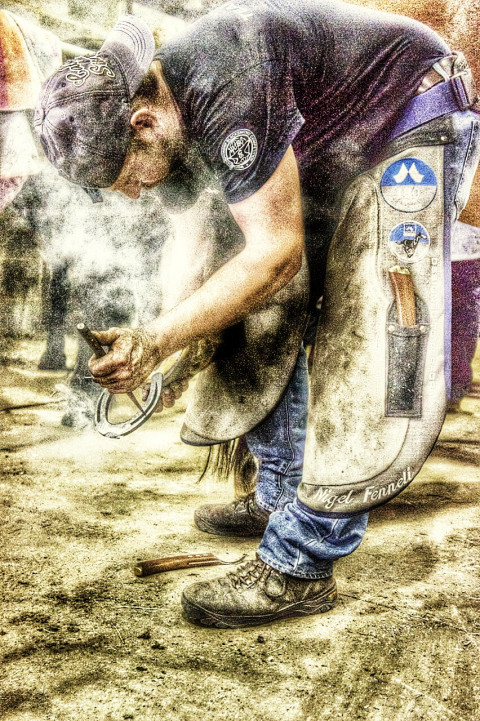 Nigel is a very experienced Farrier of 31 years who had a shoeing practice in England and now we live just outside Richmond KY.
He served a 4-1/2 year U.K. Farriery Apprenticeship and qualified 26 years ago and holds the much coveted Diploma of the Worshipful Company of Farriers (DWCF) exam and the post-graduate higher horse shoeing exam, the Associateship of the Worshipful company of Farriers (AWCF) accolade.  Nigel is currently studying for his Fellowship exam (FWCF) the highest accolade in the world of Horseshoeing for which he passed the practical FWCF exam with Honours. 
Nigel has had an extensive competitive career as a Farrier and which his main highlights include: National Industrial Blacksmithing Champion; Two Italian Farriery Show Champion titles in Verona Italy; A British National Champion Medallist and has represented the England Farrier Team 8 times as a reserve and main member, with 2 World Team International wins 2013/14 and as Reserve Individual International Show Champion 2014 at Stoneleigh U.K; 2 x World championship finalist in Calgary Canada 2007/13 and a Finalist at the Europe Farriery Championships in Austria 2012.  Most recently Nigel was reserve U.K. National Champion 2015 and Won the coveted prestigious World Horseshoeing Team Classic two years in a row in Kentucky 2016 & 2017. 
He is an included clinician to the fantastic Farriery training website "Know foot Know horse" and is appointed and approved as a Judge for 10 years by the Worshipful Company of Farriers in the U.K. 
Nigel was the England team farrier manager from 2012 to 2018 for both the senior and apprentice teams.  He is also a World wide teaching Farriery clinician and judge passing on his experience of shoeing and competition and forging skills and has given clinics in Canada, New Zealand, South Africa, Austria, Denmark, Sweden, Italy, and Germany and many states in the USA. He is also a Renowned Farriery Judge worldwide.
Nigel's shoeing experience covers a huge area of expertise from pleasure horses to dressage, sports horses show jumping and Hunters and individual disciplines in many USA horse sport disciplines. 
He has been known for his remedial and surgical shoeing and was the Head Farrier for the Laminitis Clinic in the U.K. for several years.
Areas covered Lexington, Berea , Richmond, Irvine and most surrounding county's .
Basic Prices
Trims $45
Half set (front shoes & trim Hinds $125
Full Set (4 shoes) $220
Shoe replacement visits (pulled shoes) $50
Remedial & Surgical shoeing is priced per case & time /evaluation & veterinary consultation if necessary.
Some Shoeing prices can depend on type & use /requirements etc
Extras - pad systems , grip & traction & remedial modern materials priced as to use & application requirements.
Unruly or Dangerous horses to shoe cannot be catered for due to past injuries-
Some cases for appropriate correct & safe sedation can be considered in certain situations.
Specialties
All Breeds & Disciplines
Available For Speaking Events
Barrel Horses
Corrective & Lameness Shoeing
Custom Blacksmithing
Donkeys
Draft Horses
Dressage Horses
Eventers
Farrier
General Farrier Work
Gentle
Gentle With The Old Patient With The Young.
Glue On Shoes
Good With Horses
Handmade Shoes
Hoof Cracks
Hoof Resection
Hoof Trimming
Hot Shoeing
Hunters
If Your Horse Has A Hoof Crack
Laminitis Treatment
Miniatures And Donkeys
Mules
Outstanding Quality
Performance Horse Shoeing
Ponies/ Miniatures
Punctual And Honest
Regular Shoes And Trims
Reining & Ranch Horses
Rope Horses
Therapeutic Shoeing
Trimming
Very Dependable
Western Pleasure