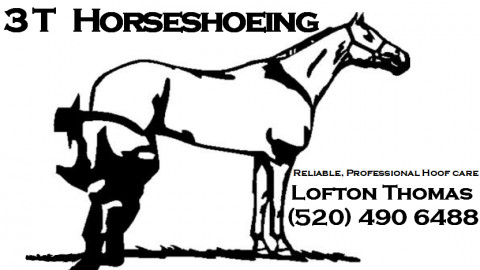 3 T Horseshoeing
Serving Pocatello and surrounding areas
I believe that having a well-balanced foot can affect your horse's quality of movement and find it to be very important to balance the hoof front to back and side to side. Also, I set your horse's foot at the correct angle and then proceed to fit the shoe to your horse's foot to the best of my ability to ensure comfort and stability for your horse.
horses, mules, donkeys, ponies, drafts
general pricing is;
$100 for shoes
$75 for front shoes and backs trimmed
$45 for a full barefoot trim
I am always up front with my clients and pride myself with being patient and stock friendly.
Prices can change depending on travel, for drafts, and temperament of the horses.
Contact Lofton Thomas at show 520 four nine zero 6488
When you call for an appointment, please let me know if your equine has any special needs.
Things you can expect from me: honest, clean, stock friendly, patient, upfront, on time or good communication if my previous appointment is taking longer than expected, returning phone calls, don't work on Sunday, always continuing my understanding and education.
Things I expect from you: horses caught (or very easy to catch) and exercised (or whatever they need to help them stand good for the farrier) before I get there, horses fly sprayed (if needed) and a clean, level area to work in that is out of the weather.
Methods of payment: CASH, check
References available upon request
Fluent in Spanish
Ride like the wind and god bless.
Specialties
All Breeds & Disciplines
All Soundness Needs
Barrel Horses
Basic Shoeing
Cold Shoeing
Corrective & Lameness Shoeing
Donkeys
Eventers
Farrier
Foals & Young Horses Expertise
Founder Treatment
Gaited Horses
General Farrier Work
Gentle
Gentle With The Old Patient With The Young.
Glue On Shoes
Good With Horses
Handmade Shoes
Hoof Cracks
Hoof Resection
Hoof Trimming
Hunters
Laminitis Treatment
Miniatures And Donkeys
Mules
Natural Barefoot Trimming
Navicular Expertise
Outstanding Quality
Patient
Performance Horse Barefoot Trimming
Performance Horse Shoeing
Ponies/ Miniatures
Punctual And Honest
Regular Shoes And Trims
Reining & Ranch Horses
Rope Horses
Therapeutic Shoeing
Trimming
Trimming Instruction
Very Dependable
Western Pleasure