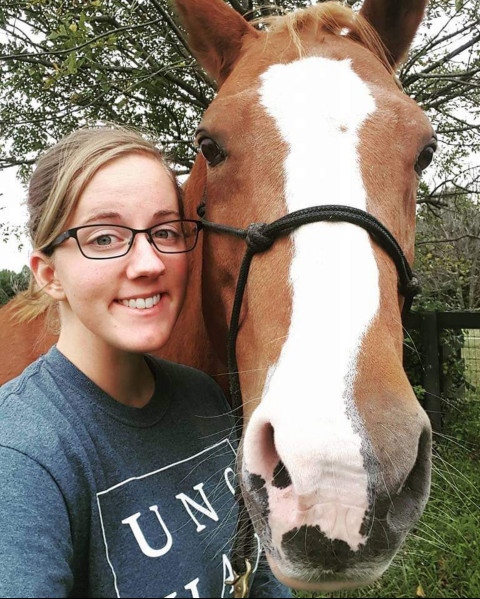 I have over 20 years of horse experience, including work with rescues, drafts, young horses, miniatures, blind horses, donkeys, and mini donkeys.
My work with hoof care started in 2009 and I graduated from the Institute of Applied Equine Podiatry in 2012. Since that time, I have worked with several laminitis, founder, and navicular cases, as well as with many other hoof deformities and problems.
In 2013 I started the advanced, second level courses through the Institute of Applied Equine Podiatry which cover Radiograph prescriptions, Deformed Hoof Syndrome, rehabilitation treatments, and every hoof pathology from Black Hole Seedy Toe to Navicular Disease. I graduated Second Level in December of 2015 with an Advanced Degree of Applied Equine Podiatry.
I have also taken 4 equine nutrition courses that cover Equine IR, Cushing's Disease, arthritis and lameness, and nutrition as a therapy.
I am a Level 2 graduate of Parelli Natural Horsemanship and have spent the past five years studying horsemanship under such teachers as Buck Brannaman, Martin Black, and Mark Rashid.
God has blessed me with a gift of helping horses and horse owners and my greatest satisfaction comes from helping a lame horse to go sound and a sound one to do his job with comfort.
I am currently accepting clients within my area.
$60 for standard horse trim
$30 for mini horses and donkeys
$80 draft horses
Specialties
All Breeds & Disciplines
All Soundness Needs
Boot Fitting
Donkeys
Draft Horses
Foals & Young Horses Expertise
Gentle
Gentle With The Old Patient With The Young.
Hoof Cracks
Hoof Trimming
If Your Horse Has A Hoof Crack
Institute Of Applied Equine Podiatry
Miniatures And Donkeys
Mules
Natural Barefoot Trimming
Navicular Expertise
Outstanding Quality
Patient
Performance Horse Barefoot Trimming
Ponies/ Miniatures
Punctual And Honest
Solemate Therapeutic Hoof Pads
Trimming
Very Dependable
Western Pleasure