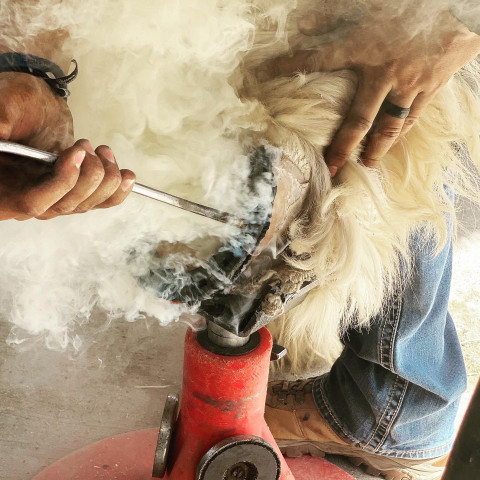 Double G Farrier Services is a husband & wife operated farrier business, based in Wickenburg Arizona.
Both Sergio & Lydia graduated from Midwest Horseshoeing School's Advanced Farrier & Blacksmith program, afterwards they studied under a therapeutic Farrier in Arizona and then went on to start their own practice. Since then they've continued to hone their skills by attending clinics and working alongside other farriers that are at the top of their field.
"If you aren't improving, you're falling behind" ~ Darren Hardy
We pride ourselves on being professionals in the field and keeping a regular schedule with our clients. We are up front with all of our clients and welcome questions as we believe horse owners should be informed.
As our profession constantly changes with new methods we like to stay up to date via resources such as the American Farriers Association (AFA), American Farriers Journal, American Association of Professional Farriers , and continuing education clinics for both horse owners and equine professionals.
- Hot Shoeing
- Therapeutic Applications (when paired with veterinary prescription)
- Custom handmade shoes
- Natural barefoot trimming & hoof care
Check us out on our FB page & Instagram
Double G Farrier Services
Specialties
Barrel Horses
Boot Fitting
Clips
Corrective & Lameness Shoeing
Custom Blacksmithing
Draft Horses
Dressage Horses
Eventers
Farrier
Gentle
Good With Horses
Handmade Shoes
Hoof Resection
Hoof Trimming
Hot Shoeing
Outstanding Quality
Performance Horse Barefoot Trimming
Performance Horse Shoeing
Ponies/ Miniatures
Punctual And Honest
Regular Shoes And Trims
Reining & Ranch Horses
Rope Horses
Therapeutic Shoeing
Trimming
Very Dependable
Western Pleasure