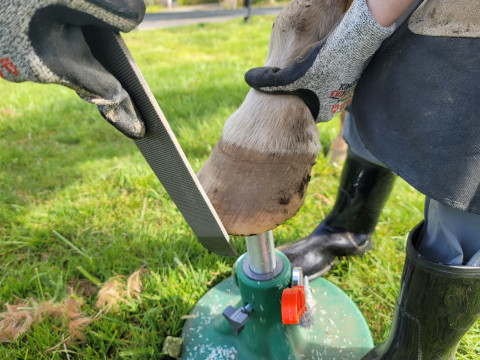 I am currently accepting new clients in the Beaverton, OR and surrounding areas.
**Please do NOT message me through this page. I do NOT receive messages through this website so will be unable to respond to you. Please only text me via the phone number listed at the bottom of the page.**
My goal is to make sure your horse is comfortable and sound after each trim. I will also work with your horse and not against them even if it takes me a little longer to trim then normal. I believe that working with the horse gives better results then fighting them. If your horse has thrush or white line, I will treat those issues with some products and let you know where you can buy them so you can do the treatments between trim visits.
At this time, I am only offering a barefoot trim; however, I am planning to add casting, booting, and glue ons to my services throughout the year. You can follow along on my website and social media accounts for updates on that as well as more about me/what I offer. I am also only doing horses at this time. I will be adding donkeys into my services later on, but I need/want to take a course this summer specific to donkey needs so I can better serve your donkey.
I fully believe that in order to be successful in any career field that continued education is important and necessary. This is crucial for me, so I will always be continuing my education/growing my knowledge and skills by taking classes, doing clinics, research, asking trusted practitioners, etc. I am more than happy to answer any questions you may have on nutrition, your horse's needs, trimmings, etc. If I don't know an answer, I will ask a trusted practitioner and get back to you so we both can learn together.
Specialties
All Breeds & Disciplines
All Soundness Needs
Barrel Horses
Draft Horses
Dressage Horses
Founder Treatment
Gaited Horses
Gentle
Gentle With The Old Patient With The Young.
Good With Horses
Hoof Cracks
Hoof Trimming
Laminitis Treatment
Miniatures And Donkeys
Natural Barefoot Trimming
Outstanding Quality
Patient
Performance Horse Barefoot Trimming
Ponies/ Miniatures
Punctual And Honest
Reining & Ranch Horses
Rope Horses
Trimming
Very Dependable
Western Pleasure