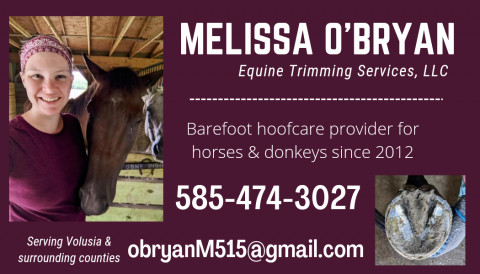 I am a certified barefoot trimmer with 10 years experience based out of the DAYTONA BEACH/Volusia county area.
I trim within 1 hour of Port Orange, Florida.
I attended trimming school at Equinextion in Canada in 2012, followed by apprenticeship (2 years). I held a client base in upstate NY for 8 years, followed by the last 2 years here in Florida.
I am not a traditional farrier in that do not apply shoes, however I studied & specialize in a balanced barefoot trim that allows the horse to function at its best.
I am on-time for appointments, and patient with the horses. I love them and I love to trim feet!
Please feel free to CALL or TEXT directly to see if I cover your area. I look forward to serving you & your horses! Phone:
Specialties
All Breeds & Disciplines
Available For Speaking Events
Donkeys
Founder Treatment
Gentle With The Old Patient With The Young.
Good With Horses
Hoof Trimming
Laminitis Treatment
Miniatures And Donkeys
Natural Barefoot Trimming
Outstanding Quality
Patient
Performance Horse Barefoot Trimming
Ponies/ Miniatures
Punctual And Honest
Trimming
Very Dependable