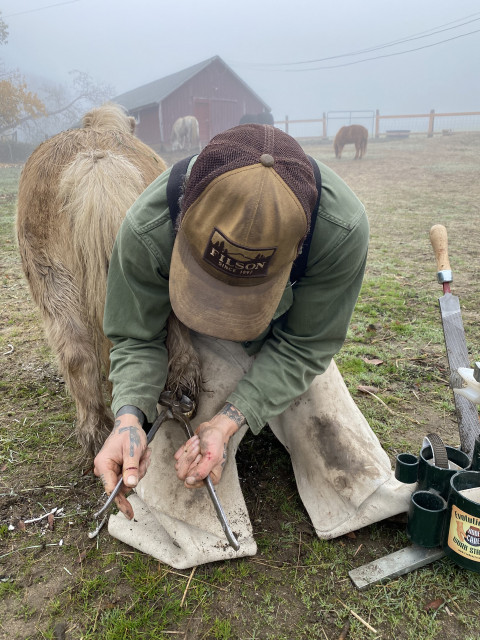 Please leave your phone number first IN THE BODY OF YOUR MESSAGE OR I WONT SEE YOUR CONTACT INFORMATION IF YOU ARE OUTSIDE MY IMMEDIATE ARE.
I am a professionally trained hoof care practitioner. I was trained in the AANHCP, directly under Jaime Jackson (the godfather of the natural horse movement), with my main mentorship under Dave Darnell of Fort Worth, Texas. I have been working professionally for 9 years in southern Colorado and Northern New Mexico, but am now located in Ashland, Oregon. I am serving the greater southern Oregon area. I have successfully rehabbed very laminitic horses and have a very sound approach to helping these animals get back to their healthy selves. I am a strong and patient man. I take great pride in what I do, and care deeply for the animals I service. I will never be aggressive with your animals. I love horses, and know how important it is to feel confident in your hoof care practitioner.
As with everything in life, we should question our way of doing things from time to time, to make sure we are up to date on what has been revealed through steadfast practitioners in the field. Are you tired of expensive farrier services, that you don't know for sure, you need? Have you ever wondered why the wild horses of the Great Basin do not need a farrier, or vet, ever? These horses are sound and prolific. The school of practice I come from focuses on creating a management system, as well as trimming method, to bring horses into this level of soundness. We take the wild horse model and bring it to your paddock in the best we can, taking into consideration all the things- budget, desire, etc. Implementing even a little bit of the wild horse model can have profound health benefits for your horse.
If you are interested in finding out more about what I do, I would be more than happy to discuss your horses needs and whatever other curiosities you might have. I love what I do, and it shows in my work.
I charge $60 a horse, and am open to discussing discounts for large groups. Please leave your name and number in the contact form or I will not be able to connect with you. Thank you for taking the time to read about my services.
Specialties
All Breeds & Disciplines
All Soundness Needs
Draft Horses
Founder Treatment
Gentle With The Old Patient With The Young.
Laminitis Treatment
Mules
Natural Barefoot Trimming
Outstanding Quality
Performance Horse Barefoot Trimming
Punctual And Honest
Trimming
Trimming Instruction
Very Dependable