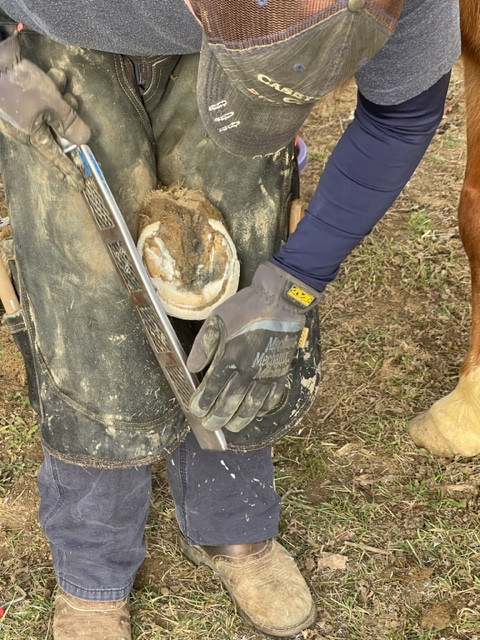 Farrier with openings (Lexington and surrounding area)
Looking for a dependable and experienced farrier? A farrier that will have the concern for you and your horse in mind? Well, you are looking in the right place. My name is Larry and I am a professional farrier and looking for new clients. I am willing to drive to you, so no more having to load up your horses and spend the day driving all over to get them shod or trimmed. I am located in the Lexington, KY area but I am expanding my client list. The more horses that you or your friends have the farther I am willing to drive. I charge reasonable rates that are very competitive and don't normally charge a trip fee. I may have to charge them in some instances, such as one horse that is a distance away, but even then I try to just charge for gas, not my time driving. I understand that economic times are tough so I am trying to cut you a break.
I shoe and trim all type or horses, from pasture pets to champions to miniatures and everything in between. I have experience with problem feet and do my best to fix the problems at little or no cost to you.
I know that many farriers do not return calls, or they make an appointment and don't show. I promise that I will return your call and will be there when I say I will.
I post my prices so that you know in advance what I charge. I have seen a lot of ads and they don't do that. I'm up front about everything.
If I see any problems I'll tell you about them and recommend what to do to fix it.
I accept cash, checks, credit/debit and Venmo.
$40 trim
$85 2 shoes and trim
$115 4 shoes
Specialties
Basic Shoeing
Cold Shoeing
Donkeys
Farrier
General Farrier Work
Gentle
Gentle With The Old Patient With The Young.
Good With Horses
Hoof Trimming
Hunters
Miniatures And Donkeys
Mules
Natural Barefoot Trimming
Outstanding Quality
Patient
Ponies/ Miniatures
Punctual And Honest
Regular Shoes And Trims
Reining & Ranch Horses
Trimming
Very Dependable
Western Pleasure