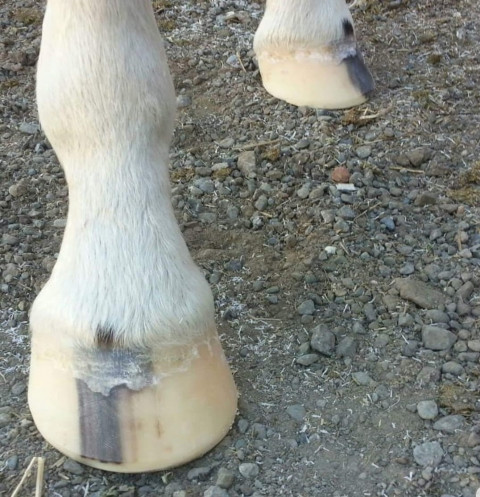 TK Hoofcare LLC is located in the Wisconsin Rapids area, serving a 180 mile radius. I am willing to travel further ($1.50/mile fee).
I am a Whole Horse Hoofcare Professional that offers simple maintenance trims, corrective trimming, glue-on shoes, and help create rehabilitation programs for those equines who need it. I also offer dietary consultations to help maintain the happy-horse-happy-life motto.
I trim all equines- miniatures, donkeys, drafts, horses, etc.
I also offer online consultations/instruction for those owners who wish to learn how to self trim their equines- please feel free to visit this page on my website for further details:
https://tk-hoofcare-wi.square.site/online-consultations
When I am with a client the most important thing for me above all is making sure the owner, horse I am working on, and myself are on the same page. I love to share my knowledge and answer any questions my clients may have with their horse or with my trimming techniques. I offer an email subscription as well as text/email reminders for any appointments that have been made.
Please note that I will not respond to any messages, phone calls, or emails during non-business hours (unless an emergency) which can be found on my website as well as my pricing.
Please be sure to read the terms and conditions on my website before contacting me.
In addition, if you are using the shop around service, I am unable to contact you directly so please either text/call or email me. Thank you!
I look forward to hearing from you!
Specialties
All Breeds & Disciplines
All Soundness Needs
Available For Speaking Events
Barrel Horses
Boot Fitting
Corrective & Lameness Shoeing
Dietary Consultations
Donkeys
Draft Horses
Dressage Horses
Eventers
Farrier
Foals & Young Horses Expertise
Founder Treatment
Gaited Horses
General Farrier Work
Gentle
Gentle With The Old Patient With The Young.
Glue On Shoes
Good With Horses
Hoof Cracks
Hoof Resection
Hoof Trimming
Hunters
If Your Horse Has A Hoof Crack
Laminitis Treatment
Miniatures And Donkeys
Mules
Natural Barefoot Trimming
Navicular Expertise
Online Consultations
Outstanding Quality
Patient
Performance Horse Barefoot Trimming
Performance Horse Shoeing
Ponies/ Miniatures
Punctual And Honest
Reining & Ranch Horses
Rope Horses
Therapeutic Shoeing
Trimming
Trimming Instruction
Very Dependable
Western Pleasure