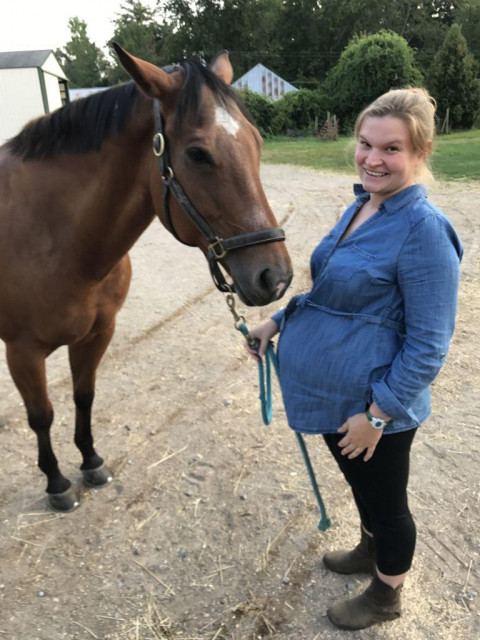 NEWS: Dr. Lobar is on maternity leave and will formally return on January 1, 2018. She has limited availability until that date, but can still fill prescriptions and consult by phone for existing patients. She is looking forward to seeing you and your horse in the new year!
Huron River Equine Veterinary Services, PLLC provides quality, on-the-farm care to horses, small ruminants, and companion animals in Wayne, Oakland, Livingston, and Washtenaw Counties.
Dr. Hillary Lobar offers routine preventative care, including vaccination, strategic deworming and parasite control, and annual physical exams for horses, sheep, goats, dogs, and cats. Horses are her passion, especially geriatric horses and those with metabolic conditions. She loves working with owners to improve the quality of life of horses who need extra TLC. She also offers state-of-the-art mechanized dentistry, lameness and prepurchase exams, and general medical care for any other concerns. Emergency care is available 24 hours a day, 7 days a week, as well as prompt referral to Michigan State University when warranted. Client-centered scheduling including evening and weekend appointments is available at no extra cost. Please contact us today via phone to schedule an appointment!
Please note: For fastest response, please contact Dr. Lobar directly via phone or be sure to include your contact information in the body of your inquiry if using this website.
Specialties
24/7 Emergency Care
Colic
Equine Lameness Evaluation & Treatment
Equine Ophthalmology
Equine Vet
Equine Veterinarian
General Medicine
General Surgery
Horse Health Care
Internal Medicine
Joint Injections
Mobile Advanced Equine Dentistry
Mobile Radiology & Ultrasound
Pre-Purchase Exams
Preventive Medicine
Routine Surgery
Vaccinations & Coggins
Wellness Care