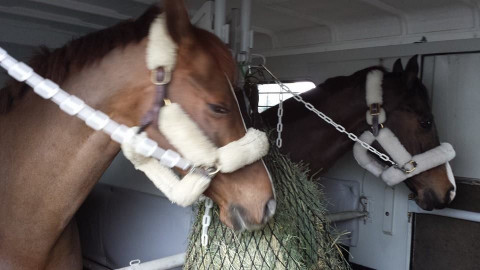 Being a former equine vet tech and a life time horse woman, your horse will be treated as one of my own.
I have experience from a weanlings first trailer ride, to show horses and emergency situations.
I have excellent references available and competitive reasonable rates.
I service local, long distance and emergency on call.
I currently service several show barns, local vets, and and equine airline import/export company.
Thank you for your consideration.
Specialties
4 Horse Gooseneck
All Your Livestock Needs -- Cattle - Exotic Animals - Equine: E
Box Stalls Available
Call Us For Your Transportation Needs.
Can Help Handle The Complex Rules Of Importing
Constant Monitoring On The Horses
Cross Country & Long Hauls
Custom Horse Transport
Dependable Transportation To Shows
Door To Door Service Available
Dressage
Emergency Transport to Vets
English
Experienced Horseman Are The Drivers
First Class Accommodation Red Carpet Service Honest Open C
Foal Transport
Geriatric & Broodmare
Ground Transport to Equine Air Transport
Horse Hauling
Horse Racing
Horse Transportation
Local Transports
Mare Transport
Multiple Horse Discounts
Multiple Horse Transport
Neighborhood Events
Parades
Pleasure Rides
Private Horse Transportation
Race Track Relocation
Regional Transport
Small Equine
Small Livestock Welcome
Stallion Transport