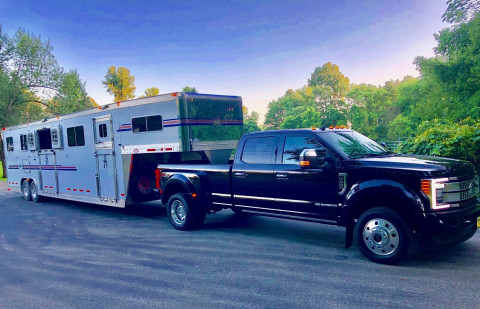 We are a legal, (DOT #2638879 MC# 925088) and fully insured, family-owned and operated business, with over 30 years in the horse industry, located in central New Jersey. We offer private, and exclusive transportation catering to the show horse and pony. One 4 Star 2+1, and an EBY 5/6 horse are available, both are extra high and extra-wide, suitable for mare and foals, and large horses. One F350 and one F450 Ford Super Duty trucks are always available as well. Local and long-distance shipping for your horse(s) to horse shows, clinics, vet emergencies, last-minute trips, and relocations. All horses are constantly monitored with an on board camera system. TRAILERS ARE STRIPPED AND SANITIZED AFTER EVERY HAUL, we take pride in our clean and well-maintained trailers. While in transit, we can be reached at all times. Current negative coggins and current health certificates on all horses is a must. We look forward to working with you!
Specialties
4 Horse Gooseneck
Box Stalls Available
Call Us For Your Transportation Needs.
Can Help Handle The Complex Rules Of Importing
Check Us Out On Facebook
Clinics
Constant Monitoring On The Horses
Custom Horse Transport
Dependable Transportation To Shows
Door To Door Service Available
DOT #2638879 MC# 925088
Emergency Transport to Vets
Experienced Horseman Are The Drivers
First Class Accommodation Red Carpet Service Honest Open C
Foal Transport
Geriatric & Broodmare
Ground Transport to Equine Air Transport
Horse Hauling
Horse Shows
Horse Transportation
Horses
Local Transports
Mare Transport
Multiple Horse Discounts
Multiple Horse Transport
Northeast to Wef Trips
Pleasure Rides
Private Horse Transportation
Regional Transport
Relocation's
Serving the East Coast
Small Equine
Stallion Transport
Vet Emergencies