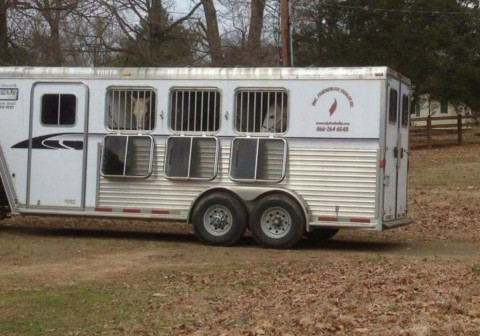 Safe horse transport. 3 horse fully enclosed featherlite gooseneck. Haulers are horse owners. We treat your horses like our own. Timothy hay, water offered at every stop. Can do box or slant stalls. Haul locally in NC or up and down the east coast or to midwest.
Specialties
A Repair/Maintainance/ FIX For Horse Trailers Problems
All Your Livestock Needs -- Cattle - Exotic Animals - Equine: E
Box Stalls Available
Call Us For Your Transportation Needs.
Carriage Transportation
Constant Monitoring On The Horses
Cross Country & Long Hauls
Custom Horse Transport
Dependable Transportation To Shows
Door To Door Service Available
Draft Horse Transport
Dressage
Emergency Transport to Vets
English
Experienced Horseman Are The Drivers
Foal Transport
Full Care
Geriatric & Broodmare
Horse Hauling
Horse Shows
Horse Transportation
Horses
Layover Facility
Local Transports
Mare Transport
Multiple Horse Discounts
Multiple Horse Transport
Neighborhood Events
Private Horse Transportation
Regional Transport
Small Equine
Small Livestock Welcome
Stallion Transport