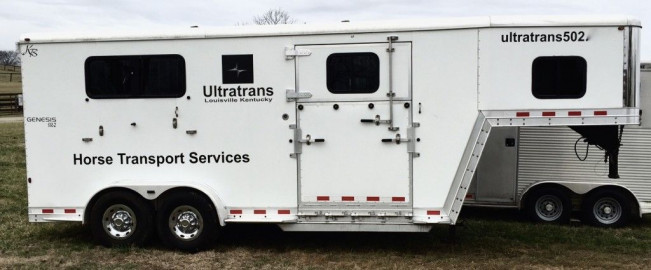 Ultratrans is a small owner operator transport company specializing is horse transport for the upcoming breeding season, to and from area race tracks, horse shows, stable/boarding moves, trail ride and fox and hound delivery and pick up. We also offer long distance moves. We are fully FMCSA compliant, have our own MC authority, operate under our USDOT 2820007 and hold a class A CDL. We carry both liability and cargo insurance. We have 30+ years of experience hauling and transporting horses, horse trailers, RV's and equipment.We grew up on ranches/farms and have been around horses and livestock all our lives owning several of our own in the past.
Specialties
30+ Years With Horses And Transporting
Box Stalls Available
Call Us For Your Transportation Needs.
Check Us Out On Facebook
Constant Monitoring On The Horses
Cross Country & Long Hauls
Custom Horse Transport
Dependable Transportation To Shows
Door To Door Service Available
Dressage
Emergency Transport to Vets
English
Experienced Horseman Are The Drivers
Foal Transport
Full Care
Fully Insured
Gooseneck 2+1 Trailer With Rear And Side Load Options
Ground Transport to Equine Air Transport
Horse Hauling
Horse Racing
Horse Shows
Horse Trailer Transport
Horse Transportation
Local And Long Distance Transport
Local Transports
Mare Breeding Transport
Mare Transport
Multiple Horse Discounts
Multiple Horse Transport
Neighborhood Events
Parades
Pleasure Rides
Private Horse Transportation
Race Track Relocation
Regional Transport
Room For Tack
Small Equine
Small Livestock Welcome
Stallion Transport