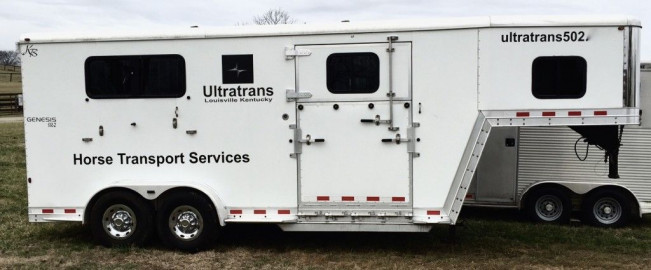 Ultratrans is a small owner operator transport company specializing is local and long distance horse transport. We carry both liability and cargo insurance and hold a Class A CDL. We have 30+ years of experience hauling and transporting horses, horse trailers, RV's and equipment. We grew up on ranches/farms raising and training thoroughbreds, standardbred and warmbloods along with other livestock. We offer transport to and from Racetracks, Vet visits, Shows, Competitions, Newly Purchased and Pleasure Riding. Our trailer is configurable to accommodate single stalls and box stalls. The floor is lined with 3/4" rubber matting for cushioning and to control heat transfer. The walls and rear/chest bars are padded. All transports are made as direct and as short as possible to minimize the time spent in the trailer. Video monitoring and visual checks performed at regular intervals. Every transport is treated with care and respect. Patience and time given to the shy and reluctant transports while loading and unloading making sure the experience is positive. The cost is based on a minimum fee and per mile rate with discounts applied for multiple horses. Thank you for your consideration.
Specialties
30+ Years With Horses And Transporting
Box Stalls Available
Call Us For Your Transportation Needs.
Check Us Out On Facebook
Constant Monitoring On The Horses
Cross Country & Long Hauls
Custom Horse Transport
Dependable Transportation To Shows
Door To Door Service Available
Dressage
Emergency Transport to Vets
English
Experienced Horseman Are The Drivers
Foal Transport
Full Care
Fully Insured
Gooseneck 2+1 Trailer With Rear And Side Load Options
Ground Transport to Equine Air Transport
Horse Hauling
Horse Racing
Horse Shows
Horse Trailer Transport
Horse Transportation
Local And Long Distance Transport
Local Transports
Mare Breeding Transport
Mare Transport
Multiple Horse Discounts
Multiple Horse Transport
Neighborhood Events
Parades
Pleasure Rides
Private Horse Transportation
Race Track Relocation
Regional Transport
Room For Tack
Small Equine
Small Livestock Welcome
Stallion Transport