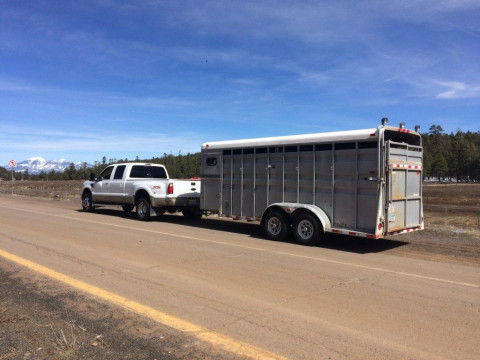 BOULDER CROSS TRANSPORT LLC IS A TRANSPORT COMPANY THAT IS FAMILY OWNED AND OPERATED BASED IN FLORENCE, AZ. WE ARE APPROVED TO HAUL LIVESTOCK, OTHER PETS, GENERAL FREIGHT, UTVS, ATVS, VEHICLES, MOTORCYCLES, BOATS AND RVS .
Specialties
A 4 HORSE STOCK TRAILER AND ARE ABLE TO HAUL ANY LIVESTOCK.
All Your Livestock Needs -- Cattle - Exotic Animals - Equine: E
Call Us For Your Transportation Needs.
Check Us Out On Facebook
Constant Monitoring On The Horses
Custom Horse Transport
Dependable Transportation To Shows
Door To Door Service Available
Emergency Transport to Vets
Experienced Horseman Are The Drivers
Foal Transport
Full Care
Geriatric & Broodmare
Ground Transport to Equine Air Transport
Horse Hauling
Horse Transportation
Local Transport Within Az Only
Local Transports
Mare Transport
Multiple Horse Discounts
Multiple Horse Transport
Neighborhood Events
Parades
Pleasure Rides
Private Horse Transportation
Small Equine
Small Livestock Welcome
Stallion Transport
Supplements
Tack