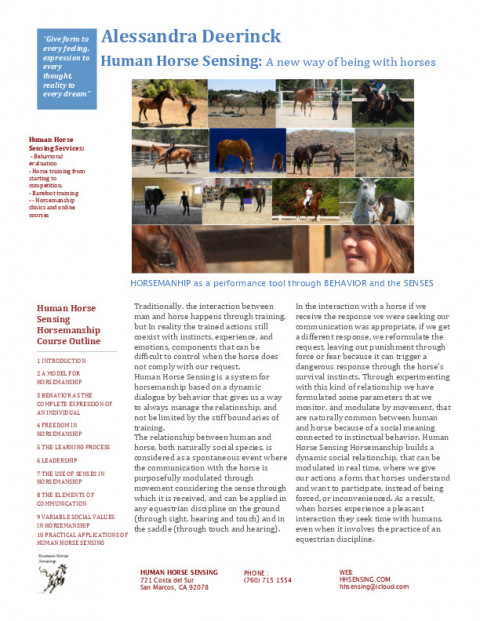 HH Sensing offers horsemanship courses, horse training, problem horse retraining, colt starting. Any age, level of training and breed is welcome, normal gait and gaited horses. Our horses are currently competing in dressage, endurance and competitive trail We also have conducted clinics worldwide for any level or discipline and offer horsemanship instruction to our clients during their horse's training.
Our courses are aimed at anyone who wants to learn how to immediately communicate with the horse, and we also have a book that describes the method (Human Horse Sensing Horsemanship on AMAZON).
These Youtube videos illustrate our work:
Human Horse Sensing Starting a horse under saddle https://youtu.be/Sd0bHOq3yV0
Riding with Human Horse Sensing https://youtu.be/aEjX4F7bCuY
Human Horse Sensing: Fun with Friesians` https://youtu.be/ojdmY5bK2OE
Human Horse Sensing: Riding and drinking champagne https://youtu.be/u7sxZCtPLpE
Human Horse Sensing: A trainer's day https://youtu.be/yMcKhWertME
Human Horse Sensing: liberty work https://youtu.be/2bTKqwY297c
Alessandra Deerinck is a Doctor in Veterinary Medicine with a comprehensive experience, covering many equestrian disciplines, that spans forty years. She has successfully raced as a jockey for twelve years in Italy, as well as has competed in jumping, dressage and endurance.
HH Sensing is located at Rolling Hills Boarding stables LLC In Poway, California. They offer great boarding with arena, turn outs, and different options for corrals. From our location we also have access to an extensive trail system that allows for whole day outings.
HH Sensing has the wellbeing of horse and rider as the number one priority applying classical dressage and Human Horse Sensing horsemanship. We are dedicated to enhance your horses' potential through exceptional and comprehensive care of their health. Alessandra offers complete nutrition and hoof care, including the transitioning to barefoot. Her clients learn how to use hoof boots and maintain their horse's hooves.
Along with training your horse, even when just starting or repurposing Human Horse Sensing provides the solid horsemanship foundation you need to be successful in any equestrian discipline and take challenges that we would not imagine being possible.
With HH Sensing, human being and horse work together through how they perceive the situations on the ground or the horse's back at any time of his life. We teach human and horse how to establish an active and dynamic dialogue that will assist them throughout any situation. Your horse can execute without being submissive and you can become a leader of leaders.
Give us a call today and set up your consultation!
Free lessons for you during your horse's training!
WATCH Alessandra Deerinck's YOUTUBE videos
LIKE US ON FACEBOOK AT Human Horse Sensing
READ Alessandra Deerinck's ARTICLES on eliteequestrian.us and ilportaledelcavallo.it
In training your horse do not guess, lead!
We will be there for you and your horse.
Specialties
Acts As Agent In Your Search For Your Next Horse
Adult Amateurs & Beginners Welcome
Advanced Training for Horse & Rider
All Breeds Welcome!
Bareback Riding
Beginner Adults And Children
Behavior Specialist
Biomechanics
Classical Dressage
Creates Horses With Good Work Ethic
Friesians
Full Grooming Services
Full Service Dressage Training
Gaited Horses
Gentle Approach
Ground Manners
Ground Training
Ground Work
Haul Ins Welcome
Horse Leases Available
Kind
Lessons For Children And Adults
Liberty Training
Long Lining
Lunge Lessons
Mangalarga Marchador Horses
Monthly Training
Older Adult Riders Welcome!
Private Riding Lessons
Problem Horses
Racehorse Retraining
Sale Horses
Sales Consulting
Stallion
Starting Dressage Horse Prospects
Teaching You How To Train Your Horse
Thoroughbreds
Trail
Trail Riding
USDF
Warmbloods
Young Horse Training