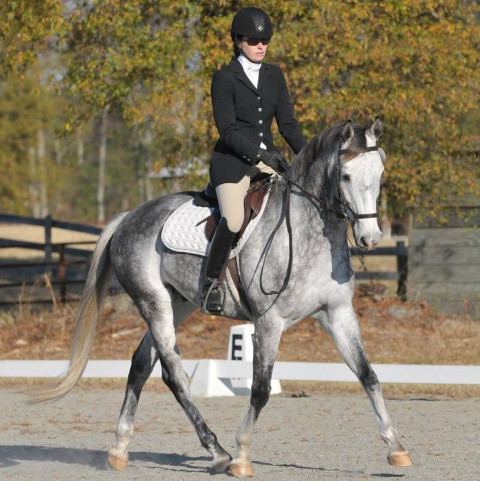 Jamie Stevenson is a life-long student of the horse. She continuously studies and seeks learning opportunities to expand her knowledge, and she is passionate about sharing her knowledge and love for horses with her students. Her goal is helping her students and horses thrive through heart-centered horsemanship as they progress towards their goals—whatever those goals may be!
Jamie started riding at the age of 10 and has been obsessed with all things horse ever since. She started her riding career Eventing–competing through the Preliminary Level. Her interests and the needs of her horses later led her towards focusing on Dressage and studying classical training principles. She enjoys the subtleties, mindfulness, and artful process of classical dressage training. She has vast experience using these principles to resolve soundness and behavioral issues stemming from pain due to unhealthy biomechanics.
Jamie also has a degree in Industrial Engineering from Purdue University...thus the name "Horse Engineer!" She graduated with honors in only 3.5 years and also obtained a minor in Psychology by accident as she simply enjoyed the subject. Her engineering background gives her a unique understanding of the forces produced through biomechanics as well as a methodical, objective approach to studying and resolving problems.
​Jamie's other interests include yoga and business development. Her yoga practice has been a major influence on the development of her empathetic and holistic approach to working with horse and rider. Since graduating from college, Jamie has owned and operated her own business in addition to helping others develop, grow, and operate their own businesses in the horse industry.
​Jamie is a long-time student of Kim Walnes who has studied under many greats including Sally Swift, Linda Tellington-Jones, Bettina Drummond, and Col. Christian Carde.
Jamie currently studies with Kim Robare who trained for 10 years with Bettina Drummond (Bettina Drummond was trained by master Nuno Oliveira).
​She has also participated in clinics with Jean Luc Cornille (Science of Motion), Dr. Gerd Heuschmann, Anna Blake, Jim Masterson, and Andrea Datz.
Additional Accomplishments
-USDF Bronze Medalist
-OSNHC Certified Hoof Care Provider
-Certified Equine Sports Massage Therapist
Specialties
Acts As Agent In Your Search For Your Next Horse
Adult Amateurs & Beginners Welcome
Advanced Training for Horse & Rider
Beginner Adults And Children
Biomechanics
Boarding
Classical Dressage
Creates Horses With Good Work Ethic
Dressage Clinics
Dressage Score Improvements
Dressage Show Coaching
Eventing
First Level
Full Service Dressage Training
Gentle Approach
Ground Manners
Ground Training
Ground Work
Haul Ins Welcome
Kids
Kind
Lessons For Children And Adults
Long Lining
Lunge Lessons
Monthly Training
Older Adult Riders Welcome!
Pleasure
Private Riding Lessons
Problem Horses
School Horses Available
Second Level
Teaching You How To Train Your Horse
Third Level
USDF