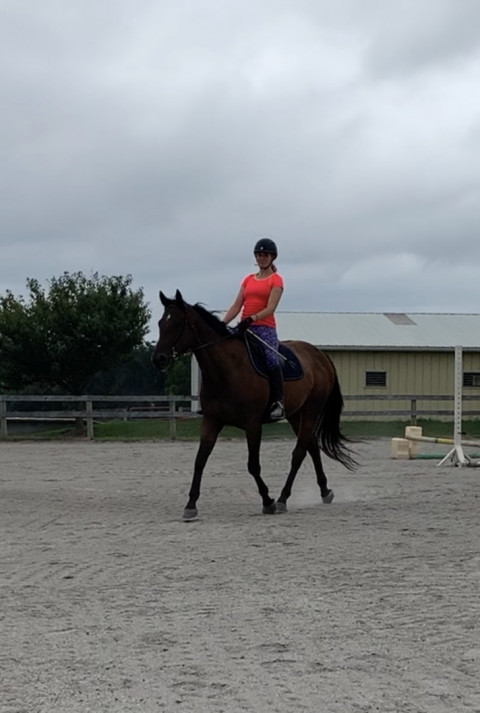 I ride and train dressage and flat work. Whether you're looking to improve your horsemanship, learn more about riding, aim for the show ring, old, young, new, or seasoned I'm here to help. My overall goal is to guide you and your horse in whichever direction is right for both of you.
Riding and working with horses is something I've been doing for most of my life and am very passionate about and committed to. I have schooled up to third/fourth level dressage and am aiming for my USDF Bronze medal and L judging credential.
Take a lesson on my horse or yours; my horse is also for lease.
Lessons start at $20 for a half hour and $30 for 45 minutes, packages and multiple lessons per location discounts are available.
Training rides start at $15 for a half hour and $25 for 45 minutes. Please contact for more information.
Additional services also available
Specialties
Acts As Agent In Your Search For Your Next Horse
Adult Amateurs & Beginners Welcome
All Breeds Welcome!
Beginner Adults And Children
Biomechanics
Cavaletti
Classical Dressage
Creates Horses With Good Work Ethic
Dressage Show Coaching
First Level
Full Grooming Services
Full Service Dressage Training
Gentle Approach
Ground Manners
Ground Training
Ground Work
Happy Athlete
Horse Leases Available
Kids
Kind
Lessons For Children And Adults
Long Lining
Lunge Lessons
Monthly Training
Natural Horsemanship
Older Adult Riders Welcome!
Pleasure
Private Riding Lessons
Problem Horses
Sale Horses
School Horses Available
Second Level
Starting Dressage Horse Prospects
Teaching You How To Train Your Horse
Third Level
USDF
Warmbloods
Will Travel to You
Young Horse Training
Young Riders