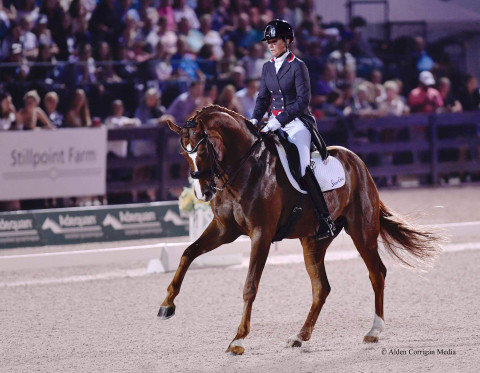 Karen is a USDF Bronze, Silver, and Gold medalist, as well as a Centerline Scores rated 5* rider located in metro Atlanta. Karen's primary focus is training the competitive horse and rider from beginning levels up to Grand Prix. In addition to training horses, Karen is passionate about working with ambitious adult amateurs. Her students have won numerous champion and reserve championships, USDF gold, silver and bronze medals, the Brentina Cup as well as Young Rider Grand Prix championships. Karen is an accomplished FEI-level Dressage rider who has won several national and international competitions and has trained over 11 horses from training through the levels to the Grand Prix.
Horse Training - Karen focuses on producing championship results. She believes in developing horses with a solid foundation that addresses their physical, intellectual and emotional needs. Training programs are developed for the horse and rider taking into account the rider's goals, stage of current training and horse/rider strength and weaknesses.
Full Training - Rider lessons and/or training horse, 5 days per week
​Partial Training - Rider lessons and/or training horse, 2 days per week
Client Instruction - Karen's approach is to provide a structure for learning the solid principles of dressage that enable a rider and their horse to develop and perform at their best. She advances the horse and rider in a methodical and thorough manner, producing a confident pair as the result. Her goal is to train a horse and rider team to be independent and capable of performing to their greatest potential without the constant attention of an instructor. And she believes in fun!Trailer-in students are accepted on a limited basis
​
Show Services - Karen Lipp is available on a limited basis for coaching and schooling riders and their horses during competitions
Specialties
Adult Amateurs & Beginners Welcome
Advanced Training for Horse & Rider
Classical Dressage
Covered Arena
Dressage Clinics
Dressage Score Improvements
Dressage Show Coaching
FEI Dressage Training
First Level
Fourth Level
Full Grooming Services
Full Service Dressage Training
Monthly Training
Older Adult Riders Welcome!
Private Riding Lessons
Sale Horses
Second Level
Starting Dressage Horse Prospects
Third Level
USDF
Warmbloods
Young Horse Training
Young Riders